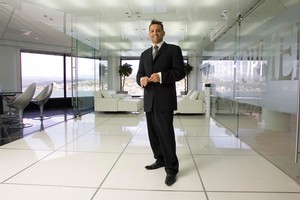 Receivers have been appointed to two more companies in Wellington property developer Terry Serepisos' empire.
Grant Thornton's David Ruscoe and Richard Simpson were appointed receivers of Century City Trust Ltd. and Century City Holdings Ltd. on September 30, according to documents filed to the Companies Office.
Century City Trust was the entity Serepisos flagged would receive two loans worth US$20 million from a Hong Kong merchant bank in his final, and unsuccessful, bid to avert bankruptcy last week.
A spokesperson for Grant Thornton's Wellington office confirmed the appointment, but said they couldn't comment further.
The latest receivership means three different firms are overseeing the wind-down of the property empire so far. PricewaterhouseCoopers' John Fisk and Richard Longman are receivers for Maisno Property Holdings and 79 Manners St Ltd.
Deloitte's Barry Jordan and Richard Vance were appointed receivers and managers of Century City Investments Ltd., whose biggest asset was Serepisos' ASB Tower headquarters in Wellington.
Serepisos was declared bankrupt in the High Court in Wellington after he failed to convince Associate Judge David Gendall to give him a few more days to try to secure a US$20 million facility from a Hong Kong-based merchant bank. The loan, if it came through, would go to an entity that wasn't a party to Serepisos' bankruptcy and liquidation proceedings, and left open the possibility to annul the order.
In August, Serepisos was granted adjournment to put forward a proposal to creditors that would sell down his property portfolio in an orderly fashion, in a bid to meet the entirety of the $204 million owed to his lenders, which was later scotched when the property developer sought new funding.
The portfolio, made up of some 150 residential properties and more than six commercial buildings, was valued at $232.5 million.
Two weeks ago, Serepisos relinquished his licence for the Wellington Phoenix Football club in Australia's A-League, which was taken over by a consortium of Wellington businessmen.