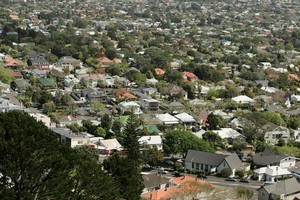 Auckland's biggest real estate company says a jump in sales of top-end properties last month pushed average sale prices up 3.2 per cent - a $16,000 lift.
Barfoot and Thompson's monthly sales stats have just been released, showing an average selling price of $547,883, the highest monthly average in six months.
Company managing director Peter Thompson said that prices traditionally rose at the start of spring.
However, "in anticipation that the hype around rugby might interfere with our normal spring promotions," the company had brought forward its marketing campaigns by a month.
"Certainly as a result of that a number of sellers actively sought to list earlier than they might have otherwise done," said Thompson. "In September the top end of the market was extremely active, and we sold six homes in excess of $2 million and another 45 in excess of $1 million.
By value, 17 per cent of sales were homes worth more than $1 million, "a far greater proportion" of sales than normal, said Thompson.
The majority of these high value homes were in the central city, eastern suburbs, Devonport and the North Shore beachline.
There was little change in the number of actual sales in September though, with 738 sold.
"We continue to sell more homes on a monthly basis than we did last year, but sales numbers have remained in a tight band between 778 and 738 for the last three months," said Thompson.
New listings at 1263 were up 5 per cent for the same month last year, and for the second month in a row new listings exceeded 1200.
- NZ HERALD ONLINE