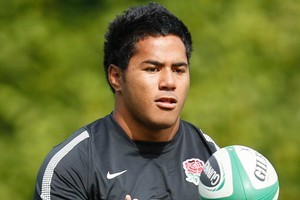 The manufacturer of the mouthguard in the centre of the Rugby World Cup controversy over branding has hit back against claims of ambush marketing.
Samoan brothers Manu and Alesana Tuilagi have both been handed $10,000 fines for wearing the unapproved OPRO branded mouthguards during the tournament, breaching the event's terms of participation.
An England RFU spokesman confirmed yesterday that Manu, who plays for England, recieved the fine following the team's clash with Georgia in Dunedin, a week after his brother was fined for the same infringement.
OPRO managing director Dr Anthony Lovat said the company would pay the players' fines, and supply any Rugby World Cup players unbranded replacements.
However he denied accusations of ambush marketing.
"OPRO is a professional organisation and has never, and would never be involved in ambush marketing activities," he said in a statement.
Rugby broadcaster Murray Deaker told Newstalk ZB "there's a whiff here of ambush marketing".
"They are a very aggressive company in the way they go about [marketing] - I'm aware of their products because they've sent me [the mouth guards] for my grandson to wear.
"I'm conscious that they know how to get to people and to get them into people's mouths so they can sell more of them around the country."
Mr Deaker believed the $10,000 fine from the IRB was too hefty.
"There is still an uneasy feeling that, hey, its a mouth guard, they are the people that make the mouth guard so, as we all know, everyone puts their name over everything that they make."
- Herald Online staff