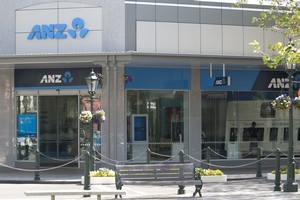 New Zealand's Australian-owned banks are worried about the prospect of credit rating downgrades as Standard & Poor's reviews how it rates them, an expert says.
In January Standard & Poor's, stung by the spectacular failure of a number of highly rated institutions in the 2007 global financial crisis, announced plans to revise its global rating criteria for banks.
Results of the ratings agency's review are expected in the current quarter and that, combined with a slowing Australian economy, is giving the big four banks - National Australia Bank, Commonwealth Bank of Australia, Westpac and ANZ Bank - cause for concern, according to David Tripe, director of the Centre for Banking Studies at Massey University.
"The reason that there is a bit more concern is the potential weakness of the Australian economy, so that might mean that the Australian banking parents are in fact subjected to a downgrade," Tripe said.
"A review is pending and I know the banks are concerned about it.
"There are certainly going to be changes and one of the big issues that the banks face is that they are not altogether sure what the new regime will entail," Tripe said.
Regarding its review of its bank ratings criteria, Standard & Poor's in January said: "We expect the pattern of banking sector boom and bust and government support to repeat itself in some fashion, regardless of governments' recent and emerging policy responses."
New laws put in place after previous crises, such as deposit insurance, had not prevented subsequent downturns, S&P said.
"By embedding this knowledge into our ratings, we want to ensure that the lessons of the recent economic downturn are not forgotten as national economies recover and the next period of favourable conditions gives rise to growth and attractive headline banking profits."
S&P said in April that there would be a modest change in ratings across the global portfolio of banks. For some specific banks, the change could be more significant. The agency intends to publish its final criteria first, and then take rating actions soon after.
A spokesman for S&P said the agency would not comment on the review so close to its release. The Australian banks, and their New Zealand offshoots, carry a highly coveted AA rating from S&P, and are among the world's most highly rated institutions.
Tripe said a ratings downgrade to AA- would not significantly increase their funding costs, but that a drop to the Bs would. He said the big issue facing the banks was their dependence on overseas funding.
"Although that has reduced, there is still some there, so that keeps on posing problems."
Early this year, the big four banks' ratings were cut by one notch to Aa2 by Moody's Investors Service, reflecting the agency's view of the Australian banking system's sensitivity to conditions in wholesale funding markets. Australia's major banks have relatively high levels of wholesale funding - at about 40 per cent of liabilities on average.
S&P last week downgraded New Zealand's sovereign long-term foreign currency ratings to AA from AA+ and its long-term local currency rating on New Zealand to AA+ from AAA.
The agency raised concerns about New Zealand's current account deficit and has expressed similar concerns about Australia's current account shortfall.
RATED AA
* Commonwealth Bank (owns ASB Bank in NZ)
* Westpac (owns Westpac NZ)
* National Australia Bank (owns BNZ)
* ANZ Bank (owns ANZ National Bank in NZ)

- APNZ