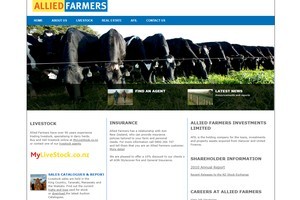 Allied Farmers, the Hawera-based rural business which bought the Hanover Finance loan book, is facing suspension from NZX for not filing its annual report.
Listing rules stipulate the report had to be filed by last Friday, said a notice from NZX issued yesterday.
So if Allied does not file the report by this Friday, its shares can no longer trade.
"If Allied does not provide its annual report by market close on October 7, NZX gives notice that trading ... will be suspended effective from the commencement of trading on October 10," the notice said.
But Allied said it hoped to have matters put to rights soon and good news was in the wind.
"The audited June 30, 2011 financial statements included in the annual report are required to take into account a number of matters that have occurred since the release of the preliminary unaudited financial results on August 29, 2011.
"One of those matters, which is expected to have a positive impact on the group, was intended to be completed prior to finalisation of the financial statements," Allied told NZX.
Allied is trading at 0.003c, has 2,042,294,858 shares on issue and a market capitalisation of about $6 million.
In August, the company reported a $43 million annual operating loss, which is an improvement from the $77.6 million loss the previous year.
This year's result included impairment losses of $29.7 million on the assets acquired in December 2009 from Hanover Finance and United Finance.
But the accounts to June 30 were not audited.