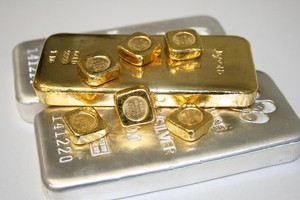 Volatility in the market this week has not been enough to put off New Zealand's gold investors.
Mike O'Kane, head bullion trader at NZ Mint, says it is processing the same number of precious-metal trades in one day than it did in a week at the beginning of the year. "We'd [previously] have been doing 10 or 20 a day, now I'm looking at pages of A4."
He says the movement in the price of gold provides an opportunity for investors to get in, as well as out.
"The news coming out of Europe and the US is still not good. Investors are looking for a safe haven and we fit the bill."
Gold prices have dropped over recent weeks in response to turbulence in European markets and the relative strength of the US dollar that prompted.
On September 10, an ounce of gold had a market price of US$1865, but that dropped to US$1575 on September 26.
In New Zealand dollars, the exchange rate mitigated a bit of the price movement, from $2270 on September 10 to a low of $2000 before the price picked up again.
Even with the fluctuations, gold prices are up hugely on what they were. In 2001, an ounce of gold was worth US$260 ($338).
O'Kane says some investors think there is more room for growth in silver than gold, but it comes down to personal preference.
Rich Elliott, senior bullion trader at MyGold, says silver is often overlooked. "In terms of growth, silver has been outpacing gold."
He says some calculations show that if silver continues to be consumed at the current rate, it will run out within seven to 14 years.
O'Kane agrees silver has potential. "If gold is $4000 in the next 10 years, [investors] will move to silver."
Both say silver suffers because it has something of an identity crisis. "It's still in a hybrid stage - is it an industrial thing, or is it money?" Elliott asks.
Elliott says there has been a continuous increase in business, which he puts down to a growing awareness among investors, the global economic situation and the opportunity to get better returns in precious metals than in other investment options.
He tells investors to think of their gold stores as money that is protected from inflation, not as an investment that will go up and down in value.
"In the 1930s, the same amount of gold would buy the same amount of goods as today, it's just the number of zeroes behind it that has changed."
O'Kane says he is pleased with the popularity of precious-metal investment. "I'm surprised and quite happy about what's going on."
Five years ago, a drop such as the one that happened this month would have put people off, but NZ Mint is still busy. "People are excited by the price movement."
He says the number of investors is definitely growing.
New Zealand has five primary retail outlets selling gold and all are in Auckland. A kilogram of gold, worth $70,000, is the same size as an iPhone.