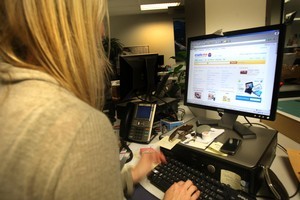 Online auction company Trade Me is likely to be floated before Christmas with up to $500 million worth of shares expected to be offered to investors.
A float of that size will boost the NZX which has been crying out for new listings.
Documents obtained by the Otago Daily Times show solid growth in both revenue and operating earnings since Fairfax bought Trade Me from entrepreneur Sam Morgan.
Sources say that Fairfax will wait until after the Summerset float, announced this week, before deciding on the timing for the float of Trade Me.
Timing will depend on market conditions and the success of Summerset.
However, Trade Me will be a popular float with the so-called "mum and dad" investors because they understand the company through using it.
The documents show that Trade Me has more than 2.8 million registered members with one million members logging in during the past month.
In 2010, more than one million people bought or sold something on Trade Me, there were more than 650,000 visitors each day, more than two million emails were sent each day and there were 20,000 message board posts daily.
Brokers say that Trade Me is a growth stock but also has defensive qualities as even when times are hard, people will look to Trade Me to sell their cars, furniture and possessions.
The documents show that the Trade Me.co.nz site has more market awareness than facebook.com, google.co.nz, some media sites and hotmail.com. Revenue has risen from $60.5 million in 2007 to $128.8 million in 2011.
General items make up the largest proportion of the revenue at $61.5 million followed by classified - including motors, property and jobs - contributing $44.7 million.
Other revenue, which comes from advertising, new businesses in group buying, travel and personals, contributed $22.6 million.
Earnings before interest, tax, depreciation and amortisation have risen from $48.5 million in 2007 to $88.8 million last year and $96.6 million in 2011, with this year's figures reduced by $600,000 to adjust for a non-recurring gain on a sale.
The company listed risks to its business as: brand and reputation damage; technology and security failures; ability to retain and attract new talent; increased competition from existing market models and disruptive models; adverse macroeconomic and industry conditions; introduction of adverse regulations; and changes in consumer tastes and preferences.
Trade Me says it has identified three areas from which it will seek to continue its track record of growth - industry growth, developing the existing platform and entering new markets.
For industry growth, the company is looking at the Government's ultra-fast broadband initiative and the take-up of new devices such as smartphones and tablets. The existing platform could have more online display advertising because this country is lagging behind in that area, the company says.
Trade Me was also looking at online retailing as an area of growth with annual growth of 12.5 per cent forecast for the 2011 to 2013 period.
Trade Me said it had the proven expertise to leverage into new markets as opportunities arose.
Those opportunities could include restaurant online services, logistics, overseas expansion, insurance and financial services.
Brokers said the technology platform was a key part of expected growth.
Growing asset
* Trade Me bought by Fairfax for $700 million
* Looking to float $350 million to $500 million
* Current value around $1.3 billion
dene.mackenzie@odt.co.nz.