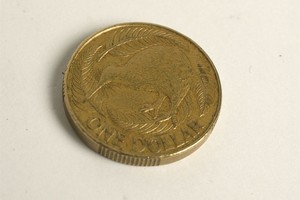 The New Zealand dollar fell to near a six-month low against the greenback after Fitch Ratings cut New Zealand's credit rating by one notch, citing high levels of external debt as a "key vulnerability" to the economy.
The New Zealand dollar recently traded at 76.66 US cents, down from 77.73 cents yesterday, its lowest level since April 4, and fell to 68.18 on the trade-weighted index of major trading partners' currencies from 69.01 previously.
The world's third-biggest ratings agency cut the nation to AA from AA+, with the outlook stable, saying the currency global volatility and the high level of offshore indebtedness is likely to hamper the government's attempts to narrow the current account deficit over the next few years.
Still, the downgrade presents an interesting mix of views of the local economy, with New Zealand rated AAA by Moody's, AA+ by Standard & Poor's and now AA by Fitch.
"Downside pressure is likely to mount for the New Zealand dollar as the early morning announcement from Fitch credit ratings of a downgrade to New Zealand's credit rating takes hold," said Alex Sinton, a senior dealer at ANZ New Zealand. "Still, the downgrade was not a huge surprise, we have been on negative outlook since July 2009, so in a sense this removes that threat that had been hanging over us."
On the crosses, the kiwi recently traded at 78.73 Australian cents, down from 79.37 cents yesterday, and it fell to 58.73 Japanese yen from 59.49 yen previously. It slipped to 56.46 euro cents from 57.14 cents yesterday, and dropped to 49.08 pence from 49.75 pence previously.
Global equities were mixed as a slump in consumers and technology stocks on Wall Street offset improved US jobless claims numbers and Germany's parliament overwhelmingly passed a move to expand the European Financial Stability Fund. The Standard & Poor's 500 Index fell 0.8 per cent to 1,142.24, while Europe's Stoxx 600 gained 0.7 per cent to 228.90.
The kiwi may trade between a range of 76.50 US cents and 77.40 cents, Sinton said.