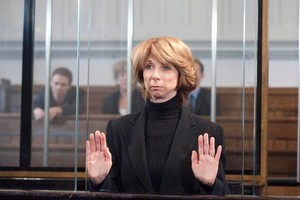 Never Mind Ena Sharples and her testy relationship with Albert Tatlock.
Nowadays Coronation Street features murders, bed-hopping and the abduction of local sex siren Rosie Webster.
Last night there was a lesbian kiss between Rosie's kid sister Sophie and her best friend Sian Powers, whose teenage love affair unfolds in the weeks and months ahead.
Coming up is an armed holdup at the factory, and the brutal rape of one of the core characters that has caused a furore in Britain.
How do TVNZ bosses think they can show this racy soap at 5.30pm - a time when children are watching and it will have to meet more restrictive broadcasting standards for a G rating?
TVNZ announced this week it is pulling Coro from its 7.30pm Tuesday and Thursday slots to make room for Australian MasterChef five night a week.
The broadcaster said it would be making edits of Coro - adding to the cuts it already makes to fit in extra advertising.
But the problem is the adult storylines - not incidents of nudity or violence.
No wonder TVNZ has been fighting a crackdown on TV sleaze and trying to take power away from the Broadcasting Standards Authority.
It is an added complication for TVNZ's muddled approach to one of its most expensive and successful shows.
It has created as many problems as it solves and raises the question whether this is a ham-fisted attempt to undermine and eventually get rid of a show.
In that sense the 5.30pm decision conjures up memories of dabbling with TV One by TVNZ programmers and marketers back in the mid-2000s - a process that brought the channel to its knees.
GRIM UP NORTH
The Government has given TVNZ no role except to make a profit so this decision is the direct effect of the Government's broadcasting policy.
Any commercial broadcaster has to make changes when ratings slide and Coronation Street's audience has fallen since 2002.
But so have many free-TV shows. The truth is that over the years - and despite its providing solid revenue - there has been irrational dislike for the blue collar soap set in the north of England.
Despite its loyal following and respectable ratings Coronation Street does not fit with TVNZ's view of itself, and has been a barrier to programmers' experimentation in prime time.
Its main failing has been that it attracts an older audience aged 50-plus that is less popular with advertisers.
A cabal at TVNZ has been looking at sidelining Coro to 5.30pm for at least two years but the move has been resisted in the past by senior management - including former marketing director Jason Paris - who were concerned that a shift to 5.30pm would remove one of the pillars of the TV One brand.
"The view is that with little sport if you get rid of Coronation Street you lose another point of difference. And One - formerly with a strong image - becomes even more like just another channel," said a well-placed source.
PRIME INTERESTED
Sky TV chief executive John Fellet said he would consider bidding again for Coronation Street the next time the rights come up for renewal.
A few years ago Sky TV made a push to wrestle the rights for Coro from TVNZ, but failed when TVNZ matched its bid.
Fellet said the show was destined for Prime and was a strong performer so he would be interested next time it comes up "at the right price".
TVNZ has used Sky's bid for the soap as an example of how the company is becoming too dominant and squeezing out other players.
TVNZ's approach to alienate a large number of its loyal viewers raises questions about the logic of its argument when consumers are worse off.
GUILD BASHING
The Government has delivered another swift kick to screen industry craft guilds.
It is scrapping their right to question foreign nationals being bought in for film jobs they believe New Zealanders could and should be hired for.
In practice, the right to object was seldom used and never upheld. But by shutting them out of the consultation process they no longer know who is in the country.
The immigration rule change effective in March means producers - and advertising agencies - will have no restrictions on entertainers coming here for less than 14 days.
There will be less red tape and the guilds claim that notification ensures that the sector - and not just the producers - knows what is happening.
Labour industrial relations lawyer Charles Chauvel questioned if this deal was linked to the Government's deal with Warner Bros supporting Peter Jackson and the producers body Spada that led to taxpayers giving Warner Bros a $20 million sweetener and changing the rules to shut unions out of the film industry.
Another Hollywood studio - Disney - complained to Economic Development Minister Gerry Brownlee, threatening it would do less work here, and with the support of local producers the immigration rule was removed.
The latest move is significant in that it also undermines the Technicians Guild. The techos are self-employed film crew whose flexible working practices, skill and attitude are big selling points for New Zealand as a film location.
Technicians Guild executive director Fritha Stalker warns the changes mean New Zealand gets a reputation as a "no rules" location for film shoots and with nobody keeping track on foreign crews it could lead to big problems.
The Screen Directors Guild says with no oversight on foreign talent coming to this country, overseas based directors will bring their own favourite actors and crew, shutting New Zealanders out of work.
AD FREEDOM
One producer privately says that New Zealand guilds don't have the credentials to have an industry role.
The obvious response is that unions like Actors Equity or guilds should not be involved in such creative decisions and that if New Zealand crews or directors are so good they need not worry about losing jobs to foreigners.
South Pacific Pictures chief executive John Barnett said there was a shortage of skilled personnel. "Actors Equity talks about 95 per cent under-employment, but the good actors people want to use are working."
In practice there was a shortage of good actors and technicians.
Advertising agencies will celebrate the change which allows their choice of talent for TV commercials.
Publicis Mojo ran into problems with Actors Equity when it brought in American Vincent Gallo for a Steinlager ad on a tourist visa. Equity said the job should have gone to a Kiwi. DDB had a fight with Equity over the US actor who played the sergeant major in the Sky TV ads.
The ad agencies' view - and that of film producers - is that there is a limited pool of talent and they need to bring in new faces and to be able to use the people they want, and not be dictated to by guilds.
BACKROOM REF
It's quite likely that a referee's decision will be contentious sometime in the Rugby World Cup but what happens after refs' decisions have been made and there are still questions about foul play?
Sky Television sports boss Kevin Cameron says that Sky has a monitor set aside at its International Broadcasting Centre for IRB officials to make detailed examination of games.
Cameron says that on occasions at half-time and fulltime the IRB has asked to review footage of the game from camera angles shown on screen and others cameras that are mixed out of the transmission.
They look to see if there is a need for follow-up action that was not adequately dealt with in the game, if indeed the incident was dealt with in the game at all.