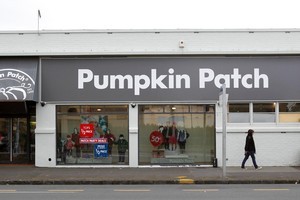 Pumpkin Patch shares took a battering yesterday on news that its long-serving chief executive has quit and underlying net profit plummeted by 50 per cent in the year to July.
Maurice Prendergast, who will step down as chief executive at the end of this year after 18 years with the firm, said the full-year result reflected a challenging retail environment and the impact of large cost increases resulting from a rally in cotton prices.
Shares in the Auckland-based children's clothing retailer tumbled more than 11 per cent to 79c at 1pm yesterday, just above the all-time low of 78c they visited at the height of the global financial crisis in early 2009.
Pumpkin Patch shares, which were worth almost $5 in early 2007, finished the day down 9c at 80c, well below the $1.25 they were worth when the company listed on the NZX in 2004.
Underlying net profit dropped 50.4 per cent to $12.6 million in the 12 months to July 2011, compared with $25.5 million in the previous year.
Including non-recurring items after tax of $14.5 million, relating to the closure of 20 stores in the United States and a review of its struggling United Kingdom operations, the company reported a full-year net loss after tax of $1.9 million.
"Events such as the Christchurch earthquakes, the Queensland floods and political unrest in the Middle East [where the company has a large number of wholesale customers] added to these challenges," Prendergast said.
The company said its board had appointed its current chief operating officer, Neil Cowie, as CEO designate.
Prendergast would remain chief executive until the end of the year to support Cowie's transition, chairwoman Jane Freeman said.
She said Prendergast was leaving to "focus on a number of other business and personal activities".
He would remain with the company as a director, Freeman added.
South African-born Cowie joined the children's clothing retailer in 2008 and has responsibility for the retail, wholesale and logistics business units.
New Zealand Shareholders Association corporate liaison Des Hunt said the company had "lost its way".
"I think the company does need new blood," he said. "I'm not saying I'm glad that he [Prendergast] has stepped down, but I think it's an opportunity now for Pumpkin Patch to make a positive new appointment."
Prendergast said trading levels were showing signs of improvement during the first weeks of the company's current financial year, which began last month.
"It is still early in the season but having inventory in on time has allowed us to match customer demand better than we did in 2011 [financial year]," he said.
"We remain cautious about global retail conditions in the medium term and believe 2012 will be another challenging year for us."
One analyst said a major issue was the fact that consumers became less willing to spend money on children's fashion during tough economic times.
"People become more inclined to go for the second hand and hand-me-downs. [Spending on kids' clothing] is just not a priority when you're nervous about your job and you're trying to pay your mortgage."
Prendergast said the company's current foreign exchange hedging position would limit its ability to benefit from lower import costs during the current financial year.
No final dividend will be paid.
Departing chief says more details of links to firm will be disclosed
Outgoing Pumpkin Patch boss Maurice Prendergast says more details on his links with a South Auckland shopfitting company will be disclosed in future annual reports after media interest in the relationship.
Over the past eight years East Tamaki-based Espies Shopfitters has received more than $30 million from Pumpkin Patch for fittings and fixtures.
Prendergast, who will stay a director of the retailer after his resignation as chief executive, owns a 50 per cent stake in the shopfitting firm.
But annual reports published since Pumpkin Patch's 2004 listing have mentioned only that Espies is partly owned by a family trust "associated" with the Pumpkin Patch boss.
"The detail that was given was ... the detail that was required to be given - you never have to give any more detail," Prendergast said.
But New Zealand Shareholders' Association corporate liaison Des Hunt said the company should have been more open about its chief executive's ownership of Espies all along and let its investors decide whether or not they were comfortable with the situation.
"A good company goes the extra mile," he said. "A 50 per cent interest is enough - I would have thought - to disclose that amount of shareholding in a company."
Prendergast said he got an average annual profit from Espies of about $68,000, and 40 per cent of Espies' revenue came from Pumpkin Patch.
Asked how he had ensured the retailer had received competitive rates for the work carried out by Espies, Prendergast said: "All these transactions go to your audit committee as part of the normal governance a company would do. I've also stayed uninvolved in both companies - both in Espies and Pumpkin Patch - in choosing the way we've done it."
He said the relationship between the two companies went back 20 years - well before the retailer listed in 2004.
Prendergast's links with Espies were raised by Brian Gaynor in his Weekend Herald column on September 17, which prompted the Business Herald to make inquiries into the relationship.
Prendergast said future annual reports would provide more clarity on his ownership of the shopfitting firm, including the profit he received from it.
Pumpkin Patch chairwoman Jane Freeman said Prendergast's resignation as chief executive was unrelated to his links with Espies.