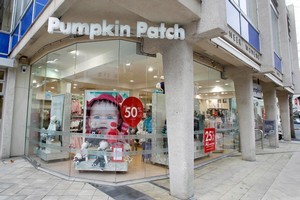 Shares in Pumpkin Patch dropped 10 per cent after the children's clothing retailer posted an annual loss as it booked charges to close its American stores and write off unprofitable British outlets.
The stock fell 9 cents to 80 cents in trading today, and has shed more than half its value this year, with its market capitalisation now standing at $134.2 million.
The drop came after Pumpkin Patch posted a loss of $1.88 million in the 12 months ended July 31, from a profit of $25.5 million a year earlier. Sales fell 6.7 per cent to $338 million. One-time costs were $15.6 million. Excluding items, pre-tax earnings were $12.6 million, in line with its guidance.
"The result wasn't where the market wanted it to be and shows the company is still struggling somewhat," said Grant Williamson, director at Hamilton Hindin Greene. "From a shareholders' point of view, there's nothing there that's going to get you excited."
Pumpkin Patch has faced a wave of unfavourable conditions - tepid consumer demand, soaring prices of raw materials such as cotton, a strong kiwi dollar, with limited ability to rein in its fixed costs. In June it announced plans to shut its remaining 20 US stores over six months and write off the value of eight of its 17 unprofitable stores in the UK.
Greene said the cost of closing the US operations was probably more than some investors were expecting.
The company's chief executive, Maurice Prendergast, an 18-year veteran with the company and managing director when it went public in 2004, resigned "to focus on a number of other business and personal activities," Pumpkin Patch said.
The board has tapped Neil Cowie, currently chief operating officer, as its new chief executive. Prendergast will stay on through the end of the year as a transition to Cowie's leadership.
Prendergast said the company started the 2012 year with better inventory levels, after it began 2011 understocked.
In Australia, its largest market, sales fell 9 per cent to $180 million while operating earnings tumbled 25 per cent to $28.7 million. Consumers in Australia have "adjusted to the more subdued economic environment" which, combined with the Queensland floods, made it tough to build sales momentum.
New Zealand sales fell 8.3 per cent to $54 million and earnings dropped 25 per cent to $8.5 million, which the retailer put down to a weak retail environment and the impact of the Christchurch earthquakes. It said trading conditions would remain subdued in its home market.
Sales in the U.K. fell 4.4 per cent to $49.7 million, and one-time charges pushed the unit to an operating loss of $7.9 million. Sales in the US fell 3 per cent to $18.4 million, with store closures and other costs resulting in an operating loss of $9.5 million.
Online and wholesale revenue was the bright spot in the 2011 year. Sales rose 1.9 per cent to $54 million. Earnings dropped 21 per cent to $10.9 million.
"We are currently taking a hard look at all aspects of the business," Prendergast said. "If the results from a store are not acceptable and we can't find a suitable solution the store will be closed."
"This is an ongoing process that will continue throughout the 2012 year," he said.
The company won't pay a final dividend.