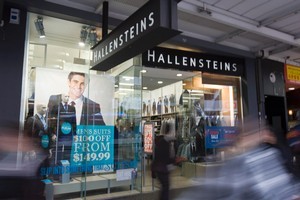 Clothing retailer Hallenstein Glasson Holdings reported a 6.6 per cent decline in annual earnings, blaming unseasonal weather for the lack of demand in some of its lines.
Net profit was $18.5 million, or 30.65 cents per share, in the 12 months ended Aug. 1, down from $22.2 million, or 32.83 cents per share a year earlier, the Auckland-based company said in a statement.
Sales revenue slipped 0.8 per cent to $205.5 million, and the retailer's gross margin fell to 56.52 per cent from 56.95 per cent.
"During February to July, we had to contend with the warmest winter recorded in New Zealand for some time, which was not conducive to apparel sales," chairman Warren Bell said.
"In addition, the Christchurch earthquake resulted in seven of our stores closed for the balance of the season."
Retailers have had to discount prices over the past 12 months in a bid to attract demand from households that have been repaying debt in favour of ramping up spending.
The directors declared a final dividend of 17 cents per share, unchanged from a year ago, taking the total payout to 31 cents, or $18.5 million.
The shares, which are rated a 'hold' according to a Reuters survey of five analysts, rose 1 per cent to $3.18 in trading on Friday, but have shed 22 per cent this year.
The company said trading has picked up in the first seven weeks of the financial year, though it declined to give an earnings estimate due to the "volatility and economic uncertainty of the environment."
The Glassons New Zealand unit reported the biggest decline, with net earnings falling 14 per cent to $10.1 million, while Glassons Australia reported a loss of $248,000. Hallensteins boosted profit 9.2 per cent to $6.6 million, while the Storm brand lifted earnings 63 per cent to $902,000.