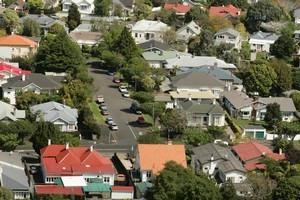 Homeowners in Auckland's city fringe suburbs could get a nice - or nasty - surprise with updated property valuations in the post next month.
The valuations are the first since the formation of the Auckland supercity and revalue 516,000 properties from Wellsford in the north to Pukekohe in the south.
The values are based on recent sales statistics and improvements to individual properties.
The council expected the estimates would generally be within 15 per cent of the sale price had the house been sold the day it was valued.
Ray White chief executive Carey Smith said he expected traditionally well-selling areas such as Grey Lynn, Ponsonby and Freemans Bay to show growth.
There had also been surprise increases from Kingsland and Arch Hill, which have grown in popularity and seen higher sales figures since the last valuation three years ago.
"Kingsland was a market which lay dormant for a long period and it is now seen as a great place to live for families who want to be close to the city," Smith said.
"Some lesser-known suburbs, such as Newton and Grafton, have also had good buyer interest."
Growth of business hubs such as Albany in the north and Manukau in the south could also mean a boost in valuations for suburbs near those centres.
Improvements to infrastructure in these areas has increased buyer interest.
Peter Thompson, of Barfoot and Thompson, said that as well as city-fringe areas such as Westmere and Mt Eden, growth had been noticed in areas of Flat Bush and East Tamaki Heights in Manukau.
"When business hubs grow, like we have seen in Albany and Manukau, you will see big movements," Thompson said. "Newer subdivisions like Greenhithe should also see growth because of improved motorway access and people working in Albany rather than travelling to the city."
Suburbs that may take a hit in valuation include eastern suburbs of Kohimarama, Mission Bay and Remuera.
"They might go down a little because they were priced quite high three years ago," Thompson said.
Peter McKay, of the Auckland Council, said: "We are constantly updating where there have been changes to properties, like if you build a new house, do an extension or subdivision, or if a house burns down."
Valuations will come out on October 26.
Homeowners wanting to challenge valuations have until December 16 to do so.
Any changes to rates will not take effect until July next year.
For more information on how your rates might change visit www.aucklandcitycouncil.govt.nz