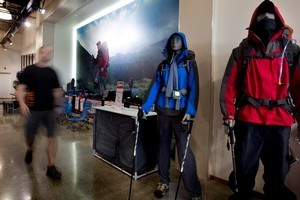 Kathmandu chief executive Peter Halkett reckons adventure activities have become a lot trendier and says that change is one of the factors driving the outdoor apparel firm's success.
While many retailers are finding the going tough amid sluggish economic conditions and depressed consumer confidence levels, the Christchurch-based company just keeps getting stronger.
Kathmandu yesterday reported a net profit of $39.1 million for the 12 months to July 31 - a 55.2 per cent lift on the previous year when costs associated with the company's initial public offering in November 2009 are excluded. Including the IPO costs, net profit rose a massive 316 per cent year-on-year.
Same store sales, which are vital for retailers, rose 15.7 per cent overall in the year to July.
To compare, New Zealand retail giant The Warehouse Group last week reported an 8.9 per cent fall in adjusted net profit for the year to July, and warned profits could fall even further in its current financial year.
In March listed clothing retailer Hallenstein Glasson Holdings reported a 16.5 per cent drop in net profit after tax for the six months to February 2011.
Halkett said the outdoor market was a vibrant retail market to be in.
"This category used to be people that went hiking and mountain climbing and, to be honest, it wasn't that cool 15 to 20 years ago."
But the rise in popularity of sports such as mountain biking had made outdoor activities trendier than they used to be, he said.
Having the New Zealand and Australian dollars trading at record levels against currencies like the greenback was also providing a boost as more Kiwis and Aussies travelled overseas.
"The strong currencies had a double benefit," Halkett said. "Not only did they minimise that unhedged portion of our cost of imports, more importantly they encouraged a large increase in Australian and New Zealand offshore travel and of course many of those people are Kathmandu customers."
One analyst said the company was benefiting from strong growth in the outdoor retail sector.
Another example of this trend is Australia's Super Retail Group - an ASX-listed firm that is heavily involved in outdoor equipment retailing - which last month reported a 46.1 per cent increase in full-year net profit for the year to July.
In research released last week, Goldman Sachs & Partners Australia said Kathmandu's earnings growth was being driven by its strong brand, the opening of new stores, expanded product range and increased advertising.
Halkett said the company had been having a "torturous time" with its United Kingdom operations, which - in sharp contrast to its Australasian businesses - saw same store sales drop 7.1 per cent in the year to July.
"Our goal remains to eliminate those [UK] losses and create a successful business model that we may be able to use in other markets outside of New Zealand and Australia," he said. "We're not going to open any more stores [in Britain]. We're going to drive sales through online because that's the opportunity in the UK and that's what customers in the UK are doing."
But in the meantime Kathmandu is focused on opening new stores (15 are planned for the current financial year) and maximising market share through improving its existing store network.
Halkett said the growth in sales seen in the last financial year had continued into the current one, although the Australian market had softened slightly.
The company had seen a small pick-up so far in New Zealand sales as a result of the Rugby World Cup.
"New Zealand probably is outperforming Australia a little bit and that would probably be down to the World Cup."
Kathmandu shares, which have gained about 15 per cent since late last month, closed up just 1c at $2.20 last night, suggesting yesterday's result had already been priced in by the market following a trading update provided by the company in August.