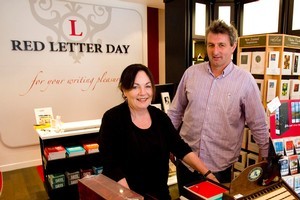 Many people ask husband and wife Lindy and Graham MacDonald how they went from running a vineyard in Matakana to opening the small stationery chain Red Letter Day.
They opened in Matakana Village on December 1, 2007, at the beginning of the recession.
About 18 months after they set up, the couple sold their vineyard - now known as the Runner Duck - and Graham joined Lindy in the business.
"Graham said: 'Mother Nature is a much worse boss, can I come and work for you?"' says Lindy.
At the outset Lindy knew what she wanted. The shop would be themed around a writing and reading culture.
A love for stationery is alive and well in today's computer-mad world, says the retailer.
A young man who did the electrics in the new Ponsonby shop bought some stationery so he could write his grandmother a letter in the UK.
"I know that it will mean so much more than a bloody email," he told Lindy.
Says Lindy: "Our tagline is that we are all about genuine personal communications."
Red Letter Day stocks mainly exclusive European and American brands. Through annual trips to gift fairs in New York and Frankfurt, the shops stock cards, note paper, desk accessories, wrapping paper and pens.
Pen brands include Omas, Retro 51 and Jac Zagoory.
You can spend as little as $4.50 on a card or as much as $2700 for a rare Omas Chateau Lafite Rothschild pen, says Lindy.
Not everything is exclusive and international. "Our best selling card is i-Candy, by Lisa Hamilton-Gibbs, an Auckland girl. The cards just rock out the door," says Lindy.
The mother of five organises the marketing and the staff while Graham, an accomplished portrait artist, is Red Letter Day's pen expert. Regulars will pop in just to see what he is drawing, says Lindy.
With 98 per cent of its Matakana customers from Auckland, Red Letter Day has recently arrived in Jervois Rd.
The Matakana store was well established and turning over $500,000 including the online business. "Growth rates have been tracking close to 30 per cent a year," says Lindy.
The opportunity for the new store at 14 Jervois Rd came up through Kerry Gladman from the shoe chain, Heavenly Soles. When the former Tessuti store premises was available on the corner of Jervois Rd and Redmond St, Gladman asked Lindy if she would like to share the space. They opened on July 28.
Staff in both stores have been crucial. They are all mature women with a sense of style and a passion for the product. "We've been so lucky with the staff that we have. They have been totally instrumental in any success we've had," says Lindy.
It's a different kind of customer in Jervois Rd from Matakana, where there was a group of loyal regulars, says Lindy. In Ponsonby, children will come in and buy leather notebooks, pens and cool magnets from XCubes. Some corporate types have bought the entire El Casco desk accessories range.
Lindy says she is enjoying a honeymoon period in Ponsonby. "The retail community here has been fantastic - the whole of Ponsonby feels like a village and people are starting to get to know us now."