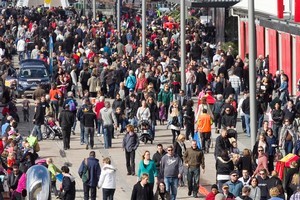 When Party Central became Squeeze Zone last Friday night, Wynyard Quarter remained enviably spacious, handling crowds with ease.
As Aucklanders reclaimed their waterfront, the once-derelict western precinct between the Viaduct Basin and Westhaven was popular with the masses but did not suffer the crush of Queens Wharf.
If you think Auckland's sudden delight in the Wynyard Quarter is over-hyped and the western waterfront area still looks ugly, architect Patrick Clifford encourages you to wait - quite a bit longer.
"We're only at the start of the project, it's just the first phase you're seeing of this scheme," says the master planner whose firm Architectus worked for 18 months with American Peter Walker to map out an overview of development in the neglected zone and give it a heart.
That was back in 2004 and 2005 when the area was being run by Sea+City, now Auckland Waterfront, and when Aucklanders could hardly imagine the hard industrial edge becoming a place they would consider promenading.
Ugly duck has now undergone some tarting up. With the beginning of the transformation under his belt, Clifford is bowled over by the crowd-pleaser.
He marvels at how a blustery day does not deter lunchtime groups from biking, strolling around and eating in the area hugging the water in what he calls an authentic experience, far from a theme park marine Disneyland pretending to be ritzy as fishing boats unload, spars are built nearby and delivery vehicles vie for the roads with Fashion Week buses.
The next big phase of the Wynyard scheme is opening up the truncated Daldy St to re-establish a water-park connection between the Waitemata Harbour and Victoria Park.
For years, Daldy St has been cut off at a mid-point in the quarter's grid format, a problem Clifford says leads to some disorientation but more importantly, the loss of through-sight links running north to south.
The east-west link has been bedded down with many aspects along the North Wharf: the new tram's route, the string of new restaurants, and the new playground.
Clifford believes connecting the park's southern boundary to the water's northern tip on the Tank Farm is one of the area's most crucial moves.
"You want strong, clear ideas that can survive many years. The east-west wharf promenade seems simple and obvious and you can add to the idea so you bring the bridge, restaurants and open up the wharf. And then Daldy St completes the grid," says Clifford, NZ Institute of Architects' president, a much-awarded architect with a quiet, studious manner.
Architectus - which has landscape and urban design capabilities - is working on the Daldy project, having completed the dramatic Karanga Plaza which steps directly into the waterfront in front of the Viaduct Events Centre built by Hawkins Construction.
Earthmoving machinery is on the Daldy St site, preparing the block to become a road, a move Clifford says will be a turning point when completed because that road will be tree-lined and an axis on which all else will turn. Wynyard is not unfriendly to cars but Clifford scoffs at the idea it is a long way from the CBD, pointing to Wynyard Crossing, the opening bridge between Te Wero Island and Gateway Plaza across the Viaduct Harbour.
The old red shed, now Gastropub Jack Tar, is on the North Wharf, surrounded by new structures which reference the old.
The original building, dating back to the 1930s, was one of three cargo sheds at the western end of Auckland's waterfront that stored goods as they were unloaded from boats moored at North Wharf before being dispatched on to trucks or trains on the shed's south side.
Waterfront Auckland says about 30 years ago Simunovich Fisheries bought the shed and used it to store fishing equipment until Auckland Regional Holdings bought the building.
"Throughout its history, the shed has been a pivotal piece of the waterfront's infrastructure and has always been a hub for the area, serving an important purpose receiving and storing cargo prior to it being transported by train, the tracks for which are still on North Wharf," Waterfront Auckland says.
Architects Fearon Hay kept the old grittiness and raw nature of the Old Red Shed so the distinctive red doors were inspiration for two new buildings either side.
Steven de Vrij of Fearon Hay says the original shed was left in its original state, with only some of the ceiling partitions removed.
The interior reflects its former uses, with the original timber frame containing marks and paint from over the years still visible. Only some ceiling partitions were removed.
Not everyone rejoices in the new quarter: some Viaduct Harbour restaurant owners are seething about rent holidays being enjoyed by the new establishments which they accuse of getting ratepayer handouts. In their defence, the new restaurants say they needed the break to get up and running.
Peter Gomm, chief executive of Mainzeal Property & Construction which built the new sheds, said his firm had worked at Wynyard for a decade, "undertaking in the first instance the strengthening works to North Wharf which was the precursor to the commercial redevelopment of the area".
"We followed up with being awarded the contract to refurbish the original Red Shed and build the adjacent restaurants," Gomm says.
"I attended the official opening in August and have been back several times and seen first-hand how Auckland has taken to the area. What is a feature is that families are very evident so there is broad appeal, also how it has acted as a catalyst for existing users to activate their street fronts to offer more eating and drinking outlets.
"With ASB under construction, the proposed hotel plus other significant developments in the pipeline this is one of the last opportunities for Auckland to establish a world-class precinct.
"The relocation of the tank farm will create an iconic waterfront re-development site that can be developed for mixed use and be available for international Pacific regional headquarters.
"The development should be used to position Auckland as a vibrant, confident international city. This will attract growing numbers of overseas investors and visitors which can then provide a legacy that the people of Auckland can be proud of.
"You can see that it really is a unique opportunity for Auckland/New Zealand to push up to the next level in many different ways."
Gordon Moller, architect of Auckland's Sky Tower and a Viaduct Harbour resident, also praised the new precinct and those behind it for their boldness and vision.
Chris Gudgeon, chief executive of Kiwi Income Property Trust which is developing ASB's $138.5 million head office on Jellicoe St opposite the Red Sheds, said the development "represents a rare and attractive investment opportunity for the trust to lease head office premises to ASB for a minimum term of 18 years, providing our investors with a long-term, low-risk rental income stream. The location in Wynyard Quarter is a prime waterfront site within what will progressively become a landmark precinct for Auckland City."
John Dalzell, Waterfront Auckland's chief executive, said the 25-year Wynyard Quarter revitalisation project largely flew under the radar for the past six years since he took over.
"But that's all changing. More than 50,00 people experienced Wynyard's waterfront," he said of the open day in August.
With building activity at a 10-year low, those contractors who have won work at the precinct are delighting in their creations, hoping for awards and accolades. But they also know much more is in store, as Auckland turns to face the water.
Who's doing what
Project and Contractors
* Jellicoe St: Dominion Constructors
* Gateway Plaza: Hawkins with Dominion doing paving and concrete work
* North Wharf building: Mainzeal Property & Construction
* Silo Park: Total Spaces, piling by Fulton Hogan
Consultants MPM Projects and Taylor Cullity Lethlean
* Tramway: Dominion Constructors and Jesmond Construction
* Wynyard Crossing: Brian Perry Civil and Crusader Engineering
Work so far
* Wynyard Crossing: gives access from the Viaduct to Wynyard Quarter Gateway Plaza (Viaduct Harbour) across the Viaduct Harbour.
* Karanga Plaza: 4855sq m public plaza incorporating an information kiosk made of shipping containers and tidal steps to the water's edge.
* Viaduct Events Centre: new 6000sq m events facility on Halsey St Extension Wharf.
* Jellicoe St: a 440m tree-lined, blue-stone paved public boulevard incorporating a tramline, public seating, lighting, rain-gardens and sculpture.
* North Wharf, Jellicoe St: nine new restaurants and bars at the water's edge, construction and refurbishment by architects Fearon Hay.
* Silo Park: grassed public space bordered by a 12m high x 110m long steel gantry, celebrating the area's industrial heritage and incorporating the Golden Bay Cement Silo 7 and six-pack with excellent views over the area. Most of the other industrial silos will be dismantled gradually. Designed by Melbourne landscape architects Taylor Cullity Lethlean and Wellington's Wraight + Associates who did the North Wharf promenade, Jellicoe St and the areas adjacent to it, as well as a large parkland at the western end of Jellicoe St.
* Auckland Tramway: 1.5km tramway loop carrying two historic trams painted in the original carnation red livery.
* ASB Bank building, rising now: builder Fletcher Construction, developer Kiwi Income Property Trust.
* Apartments, shops, offices, carparking, other amenities: to be developed in the quarter during the next 20 years, plans yet to be finalised.