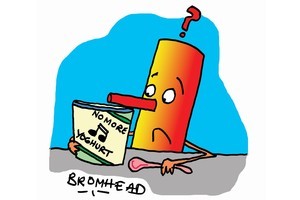 When the caregiver placed a tub of yoghurt next to my cornflakes, I responded guardedly: "What's all this then?"
"I thought you'd like to try the recommended 14-day course," she suggested, explaining the difference between this and other dairy products.
"It's specially formulated yoghurt - to help your digestive system cope with flatulence problems."
"Flatulence. Who on earth's got that problem?" I retorted, pushing the container disdainfully to one side.
As usual, my blustering response was ignored.
Instead, I was reminded about the television advertisements featuring the former Miss Universe and local beauty, Lorraine Downes, who is promoting this highly active yoghurt stuffed full of bifido-bacterium lactis culture to assist those suffering from "digestive discomfort".
"Hang on," I protested, "this is a product specifically produced to aid women's digestive anomalies - not men - because women apparently have more problems with 'breaking wind from behind' as the good Dr Johnson aptly described the phenomenon in his excellent dictionary of 1755." After a pause, I added, "perhaps, you've really purchased this stuff to address some personal issues?"
My suggestion was probably inconsiderate, considering that the caregiver is weighed down with the equivalent of a medicine ball in her womb and cannot really be held responsible for the control of bodily flurries at present.
As usual, my reasoning about who should really be consuming the product was ignored as she continued to focus on my contribution to undesirable effluvia, by pointing out: "In this household, who subjects the occupants to an endless cornucopia of sound when he goes for a 'session' in the bathroom?"
"I'm just a normal red-blooded male carrying out healthy bodily functions in the usual natural manner," I responded feebly.
"So why does the dog hide under the sofa when he hears some of the ominous rumblings produced from your so-called sessions visiting what Evelyn Waugh aptly called the thunderbox?"
At this point, the caregiver, still in persuasive yoghurt-marketing mood, showed me the website with photographs of the luscious but bloat-plagued Lorraine promoting the product.
"Mmm ... perhaps there is something in this yoghurt stuff, after all ... maybe I should research the subject - start by interviewing sufferers like ... err ... this charming lady," I suggested, eyeing her photo enthusiastically.
"That won't be necessary," responded the caregiver stiffly, adding, "I don't need you slobbering over the workings of some other female's gastrointestinal system, no matter how sonorously musical you might find her emissions."