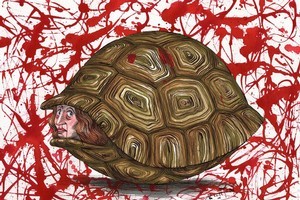 It's not the Kiwi way, but there's no law against displaying your feelings. Yes, even in business.
I should have worn my fluoro Walking School Bus vest to the Viaduct on Friday afternoon for the Rugby World Cup opening. Usually I am fond of a little jolly anarchy but on this occasion I almost hankered to see someone bossy in charge, with a clipboard. Instead, there was just a scary squash.
I generally think it is a good thing when people are in touch with their feelings. But I can tell you on Friday night, getting squashed, I felt very grateful we were an emotionally repressed culture.
Everyone was sort of politely stoic about being forced into involuntary frottage. Every tiny shift was accompanied by: "Sorry, sorry, oops, sorry." Everyone I saw was impressively controlled despite the chaos and frustration. I bet, like me, they were feeling the nascent stirrings of claustrophobia, but realised it was not helpful to acknowledge this.
In countries with more hot-headed social norms this situation could have boiled over. But New Zealanders tend to be - when sober, at least - more emotionally austere, which in this instance was quite a becoming trait.
Normally, this uptightness annoys me. I wish people would vent more. I loved it when departing Yahoo boss Carol Bartz called her board "doofuses". Can you imagine anyone daring to do that here? I think it is a good thing if people are brave enough to express their emotions, even in a business context. Although if Bartz had been more adept at expressing herself in a less confrontational way, she may still be in a job.
Psychologist Harriet Lerner, a specialist on women's anger, says her clinical practice is filled with women venting their "real feelings" in an angry manner, but this gets you nowhere, or makes things worse. Instead, Lerner advises scripting carefully what you are going to say and keeping it brief. Although presumably that will tend to be something other than the "**** off" response Bartz made to a tech blogger.
Lerner acknowledges this is hard. "I felt like the English professor who wrote on a student's essay 'be yourself!' and then added 'if this is yourself, be someone else'."
But it is important to find a way to tell our truths in business and in life. If you only tell people what they want to hear, and the cost of saying what you feel is very high, it is easy to become estranged from reality.
Neurologist Antonio Damasio, the author of Descartes' Error, has established that people who have lost the centre of the emotions in the brain as a result of accidents or surgery are not only incapable of having feelings, but at the same time lose the ability to make decisions and organise their lives.
"However well the remaining sections of the brain may function, however intact the purely intellectual faculties may prove to be in psychological tests, there remains a substantial impairment of the ability to feel and act. The inescapable conclusion is that for people to be able to organise their lives they must have access to their emotions."
Being in touch with your emotional life is vital to being a good leader. Makes sense, but we still might need better crowd control. I got out of the Viaduct in the wake of my burly friend. He got back from Shanghai last week so he was used to crowds.
He didn't bother with "sorry, sorry, oops"; it was more like "out the way, doofuses".
dhc@deborahhillcone.com
* Illustration by Anna Crichton. Email Anna: illustrator@annacrichton.com