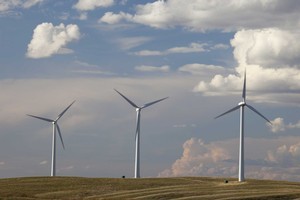 Struggling wind turbine pioneer Windflow Technology has only $400,000 in the kitty and needs to raise $2.4 million from shareholders and other sources to keep going until January.
Declaring a loss of $7.03 million for the year to June 30, the Christchurch company says it can then hang on for six more months to June 2012 because it is due $2.82 million for the last 32 turbines at its only commercial installation, the 97-turbine Te Rere Hau wind farm in the Manawatu.
In that time, it hopes to stabilise the firm by licence sales of its innovative gearbox technology, which allows its two-bladed Windflow 500 machine to operate in high winds when other wind farms stop generating.
It says that already one Fortune 500 company is at the advanced evaluation stage of the intellectual property with the objective of entering into a licence and engineering support agreement.
Among Fortune 500 companies involved in wind generation are General Electric and Duke Energy, both in the United States, where Windflow secured rights but was unable to fund the construction of two demonstration turbines at a southern California project which also uses two-bladed turbines.
More generally, the company's preliminary annual review, released to the NZX yesterday, says it already has significant interest from potential purchasers of licences for its intellectual property, even before a formal sale process is entered into.
Since balance date, it has also sold $900,000 of spare parts to New Zealand Windfarms, operator of the Te Rere Hau development, with some further revenue as more spares arrive from suppliers.
This tight cash position underlined the need for an immediate capital raising, said managing director Geoff Henderson.
Accordingly, directors will from today offer existing shareholders one-off parcels of 30,000 shares at 50c each, up to 30 per cent of the issued capital of the company.
The capital raising could provide $2.35 million should 160 shareholders take up their full $15,000 entitlement, the Windflow documents say - 17 per cent of the shareholder base compared with the 38 per cent who participated in the last capital raising in late 2010.
The loss for the year was in part because of higher-than-expected costs for maintenance on the Te Rere Hau machines.