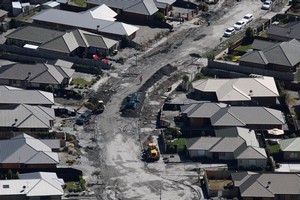 Quake-hit Christchurch homeowners who may already be out of pocket under the Government's buyout offer are at risk of losing out further with the cost of new homes in the city set to skyrocket warns Labour leader Phil Goff.
Yesterday some Christchurch homeowners protested over issues including the valuations upon which the Government has based its offer to buy out those in red zones which cannot be rebuilt on and the reluctance of insurers to pay out on some of those properties.
Goff said he had been in Christchurch twice last week where he found "mounting frustration" among some homeowners.
"Families that know they've lost a huge amount of equity despite the fact that the prime minister promised that no one would be worse off, they're caught in a situation where they have to accept the Goverment offer.
"They'll lose their equity when they sell and they'll pay inflated prices because of the huge demand on the new properties that they'll be competing to buy."
Goff said the issue was around building materials and skilled labour along with land suitable for rebuilding.
"The Government needs to prepare for that and so far they haven't."
One of the solutions was to ensure the resource management process didn't unduly restrict the availability of new sections. Another was to "knock heads together" in the insurance industry where companies were driving demand for new sections by refusing to insure rebuilt properties on existing ones.
"There's no reason why they shouldn't be insuring new houses in the green zone."
Goff last week said rebuilding of residential properties had "stalled'' due to the insurance issue.
Finance Minister Bill English has said insurance companies were waiting for the aftershocks shaking Christchurch to tail off before fully re-entering the market.