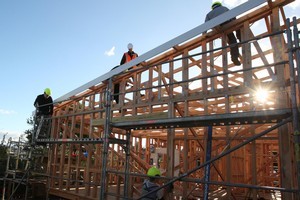 Building activity has plummeted to its lowest level in 10 years, dragged down by a drop in residential building, latest figures show.
This comes just seven months after the number of building consents sank to a nine-year low, on a fall in the construction of new homes.
Statistics New Zealand figures show the amount of all building work fell 6.6 per cent in the June 2011 quarter, led by a decrease of 12 per cent in residential building activity.
"A decline of this extent is surprising," said Jane Turner, economist at ASB.
"Construction activity was already very weak, and we had expected construction activity to remain broadly stable given building consents had started to stabilise over the first half of 2011."
Residential building activity has now fallen 24 per cent in the latest year, to its lowest level in 18 years, Statistics New Zealand said.
Non-residential building activity fell slightly in the June quarter, down 1.4 percent, following a 10 per cent fall in the previous quarter.
"It looks as though Canterbury actually performed slightly better than the rest of the country in the June quarter," Statistics New Zealand's industry and labour statistics manager Kathy Connolly said.
"It seems that residential building work in Canterbury fell by slightly less than in the rest of the country, while non-residential building work appears to have risen."
Infometrics economist Matt Nolan said uncertainty about the New Zealand housing market, weak investor demand, and difficult financing conditions had taken an increasing toll on the building industry.
"With house prices starting to recover and rental yields becoming more attractive, we expect residential building activity to gradually recover.
"Even so, the unwillingness of lenders to take on risk will constrain the level of activity for some time," he said.

- NZ HERALD ONLINE / BusinessDesk