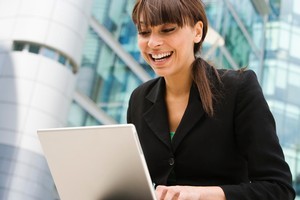 People urged to make most of network, writes David Maida
If online recruiters had their way, every New Zealand worker and job candidate would have a profile on LinkedIn.com.
Recruiters and businesses are able to tap into the networking website to find talent before it's even on the market, says Linda Coles, owner and consultant at Blue Banana. She speaks to organisations about how they can optimise their use of LinkedIn to develop their businesses. Her advice to job-seekers is to use the site to showcase their talent, experience and expertise.
"There's a lot of information that you can put on there about yourself," Coles says. "You can put a PowerPoint presentation, a video, articles that you've written and links to places where they've been published. You can feed your blog in and do all sorts of different things. You can make yourself really saleable."
You can link your profile in with Twitter if you wish, but Coles says to be careful about how you use each of the social media sites.
"I always say LinkedIn is your boardroom of connections and Facebook and Twitter is more your coffee shop of connections. It's very different conversations."
Employers are checking out job candidates online, even if it's just to do a quick Google search. Since LinkedIn has such high search engine rankings, often someone's profile on the site will be one of the first searches that will show up under their name. But Coles says there are only about 400,000 Kiwis using the service out of about 100 million users worldwide.
"It is growing, but people don't realise how powerful it is. I think those early adopters who are starting to use it are finding some success. It's more of a sort of 3D personal business website of yourself."
Only around a quarter of job-seekers are using LinkedIn to search for jobs. Coles estimates only about 20 per cent of recruiters are using it.
"I don't think it's anywhere near half, which is a shame because it is just a database of people."
The majority of recruiters are only searching LinkedIn when they have a vacancy, but some are being more proactive. Rather than wait for candidates to reply to ads on online job boards, they're making connections with people in the industry they work in. Technically, you're not supposed to connect to anyone that you don't know, but that's not a hard-and-fast rule.
"At the end of the day, it's a networking site. And if I'm going to a networking event, I'm going to meet new people. Otherwise it would be a party if you knew everybody. I'm quite happy to connect with anybody who wants to connect with me."
Coles says you can handle connections on LinkedIn just as you would having contact with someone in real life. You can look at their profile and see if there are any commonalities you might have in work or business.
The service is free for casual users, but offers subscriptions for job-seekers for up to US$40 ($47) per month. This allows them to move to the top of the list as a featured applicant or zero in on $100,000-plus jobs with detailed salary information. Recruiters and businesses can purchase subscriptions starting at US$20 per month. The LinkedIn Talent Pro subscription goes for US$500 per month and offers expanded mail, folder and group options.
"Even $500 a month, you know, if you're getting your candidates and filling vacancies because of it, it's only a small amount of money when you think of what a recruitment agent charges these days."
Coles has just written a book on how to get the most from social media, called Learn Marketing with Social Media in Seven Days. She says she's heard of many online successes, including one woman who recently landed her "dream job" through LinkedIn. She also says a company director just recruited two people by posting the vacancies for business development managers on his status update box within LinkedIn.
"It was just a bit of a chit chat and a comment and the vacancy was filled twice over."
A sales role is a popular position to go through LinkedIn, because it allows the salesperson to actively promote themselves through the website, even when a position is not advertised.
"When a position does come up, they're top of mind because they've been active in selling themselves in the LinkedIn groups, asking questions and just generally being out there."
With LinkedIn's "recommendations" feature, people can describe what a previous colleague was like to work with or what they accomplished.
"If someone's got a couple of recommendations and someone else has maybe 20 recommendations, that could be the one thing that gets that person the job. It's almost like 20 people have written a reference for them."
There is a certain etiquette in requesting and giving recommendations on LinkedIn.
"If you are asked for a recommendation and you don't feel that you can give it, then say so. Don't just make one up. When you're asking for a recommendation, don't just ask everybody in your company."
Recommendations can provide recruiters with just another piece of the puzzle about a candidate. More information would be needed to determine if they are the right fit for a particular job, just like in any other recruitment process.
LinkedIn also offers a chance for recruiters and organisations to shape their online presence and make sure their image is presented as they wish. Coles says once organisations have a successful contact or recruiting experience on the site, they'll tend to use it much more.
Contact David Maida at: www.DavidMaida.com