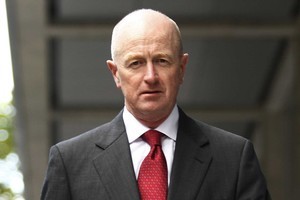 The Reserve Bank of Australia left its benchmark interest rate unchanged for a ninth straight meeting, citing deteriorating growth prospects at home and abroad.
Governor Glenn Stevens held the overnight cash rate target at 4.75 per cent yesterday, saying "global financial markets have been very unsettled over recent weeks". The extended pause on rates matched the prediction of all 25 economists surveyed by Bloomberg News.
Stevens' decision to maintain the developed world's highest borrowing costs reflects a slower global economy that's dimming the domestic growth outlook. Australian employers added 41,400 jobs during the first seven months of the year, the weakest January-July period since 2003, as a rising currency hurts manufacturers.
In Australia, "the near-term growth outlook continues to look somewhat weaker than was expected a few months ago", while forecasters of global growth have scaled back estimates in recent months, Stevens said.
"The board judged that it was prudent to maintain the current stance of monetary policy," he said. "In future meetings, the board will continue to assess carefully the evolving outlook for growth and inflation."
Since the RBA's August 2 meeting, when a rate increase was discussed, reports have shown the first increase in unemployment in nine months and consumer confidence falling to a two-year low.
Adding to concern that inflation will quicken was a government report showing Australian wages accelerating and figures showing stronger-than-forecast retail sales in July.
Australia's jobless rate rose to 5.1 per cent in July. A report tomorrow may show unemployment stayed at that level last month, according to the median estimate of 24 economists surveyed by Bloomberg News.
BlueScope Steel, Qantas Airways and Westpac Banking all announced plans last month to trim their workforces as Australian consumers retrench.
The central bank's two preferred measures of annual inflation accelerated to 2.7 per cent in the second quarter, compared with a gain of about 2.3 per cent in the first quarter.
The central bank aims to keep underlying inflation in a range of 2 per cent to 3 per cent on average.
Testifying to a parliamentary panel in late August, Stevens said the RBA's board last month "judged the most prudent course was to sit still through this period, in spite of inflation data that, on their face, continue to be concerning."
Clouding the outlook is concern the world's largest economy is slowing. Employment in the US unexpectedly stagnated in August as employers became less confident in the strength of the recovery and the jobless rate held at 9.1 per cent, according to a September 2 report.
In Europe, there's little sign of a rebound. France's economy stalled in the second quarter, Germany's expanded 0.1 per cent and the UK's gross domestic product grew 0.2 per cent.
Growth is also showing signs of moderating in China, Australia's biggest trading partner. A Chinese non-manufacturing index dropped in August after the Government raised interest rates, curbed lending and imposed limits on home purchases, while a manufacturing index stayed near a 29-month low.
The RBA has relied on the Australian dollar's strength to temper gains in inflation. The local currency has risen about 15 per cent in the past year and reached US$1.1081 on July 27, the highest level since it was freely floated in 1983.
- Bloomberg