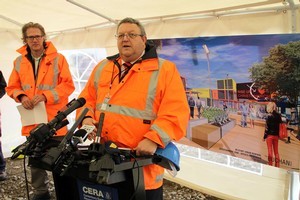 Earthquake Minister Gerry Brownlee travels to Monte Carlo next week to sit across the table from some of the world's biggest risk-takers.
The outcome could save - or cost - every homeowner in New Zealand hundreds of dollars each year.
Mr Brownlee is leading a delegation of officials that will meet the world's major reinsurance players at their annual "Monte Carlo Rendez-Vous de Septembre".
Reinsurers are the giant companies that insure the car, home, contents and commercial insurance companies New Zealand homeowners and businesses are familiar with.
They've taken huge hits recently from the New Zealand quake, the Japanese tsunami and the Australian floods.
They'll ultimately bear the majority of the "estimated insured losses" from the Canterbury quakes, which insurance broker Marsh NZ this week put at about $25.5 billion - a figure that's now risen to $29.5 billion after the Earthquake Commission's exposure was revised $4 billion higher to $7.07 billion.
Mr Brownlee's mission is to persuade the reinsurers that even after the Canterbury earthquakes, New Zealand is not an overly risky market.
The more risky they perceive New Zealand to be, the more they charge the EQC and local insurance companies, and the higher premiums are for home owners.
Reinsurance costs typically account for 10 to 20 per cent of domestic premiums.
The reinsurers have already decided that New Zealand is now a poorer bet and insurance companies and the EQC are paying more for their cover.
In response, AA Insurance has raised premiums for the dwelling component of its home and contents policies by 50 per cent after negotiating new reinsurance contracts that were in some cases "hundreds of per cent" more expensive than before.
AA Insurance's head of corporate affairs, Suzanne Wolton, said that translated into an increase of about $200 to $300 a year for home and contents insurance premiums on the average owner-occupied home.
The increase is bigger for investment properties.
However, she believes the hikes so far are enough to cover the reinsurance cost increases, which may decline over time as they did in the years following the 9/11 terror attacks.
"If reinsurance premiums go down over time, normal market dynamics will play out and insurance premiums ought to fall."
However, it's highly likely there will be further upward pressure on homeowners' premiums soon when the Government decides how it will replenish the EQC's reserves.
These have been wiped out by Canterbury quake claims.
Rejecting a dedicated quake tax, the Government is likely instead to lift the EQC levy.
This alone accounts for about $70 of the insurance premiums most homeowners pay each year.
Finance Minister Bill English says a decision on the future of the commission is some months away.