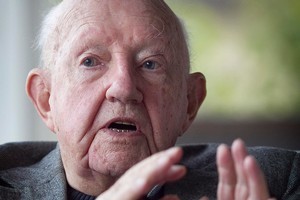 The founder of accident compensation, Sir Owen Woodhouse, says accident levies could be slashed if the system were returned to its original "welfare-based" principles.
Sir Owen, now 95, told a seminar at Auckland University the system he designed in 1967 was feasible only because it was funded on a pay-as-you-go basis just like health, education and other social services.
He said the 1998 change to a "fully-funded" insurance scheme, setting levies in each year to cover the whole future cost of accidents that occurred in that year, was "a grave mistake".
"The funded approach should cease... The overall amount collected as levies could be greatly reduced," he said.
"Excess funds now held as investments would be available as a necessary contingency reserve against the risk of major disaster, with any appropriate balance available to underwrite reduced levies."
He told the Weekend Herald his original report estimated a pay-as-you-go system would need a levy of "no more than $1 in $100 of wages".
The Government will cut average employer levies next April from $1.69 to $1.32 for every $100 of wages, and the levy on wage-earners from $2.04 to $1.70 per $100, including GST.
Sir Owen said a pay-as-you-go system would also slash levies on car licences from $228 a year at present to "about $100", and on motorbikes from up to $491 to "about $50".
The scheme would never have got off the ground unless it had charged much less than the private insurance companies' fully-funded premiums.
"The money was already there," he said. "More efficient use could be made of the amounts already needed by compulsory insurance schemes.
"It was done by substituting a single state welfare service for the earlier systems, and converting the insurance premiums to taxes levied on wages and vehicles.
"Only $50 or $60 of every $100 collected as premiums had ever reached the injured. The welfare system could return as much as $90."
In practice, the original Accident Compensation Corporation (ACC) set levies above pure "pay-as-you-go" costs to build up a reserve fund, but it didn't act like an insurance company.
This changed in 1998, when the National Government opened ACC to private competitors and began to increase ACC levies gradually to a fully-funded basis.
Labour, elected a year later, restored ACC's monopoly except for a few big "accredited employers", but continued to move ACC levies to full funding. John Key's Government wants to reopen the scheme to competition next year if re-elected.
Labour ACC spokesman Chris Hipkins said Labour wouldn't allow competition, but there was "an inter-generational argument" for full funding so people having accidents now did not pass future costs of supporting them on to their children.
Former Labour Minister David Caygill, who chaired the ACC "stocktake" that endorsed reopening the scheme to competition, said a competitive insurance system with fully-funded premiums based on an employer's accident record would be an incentive for workplace safety and help the injured back to work.
But Sir Owen said that would give employers incentives to claim workers were injured somewhere other than at work. Everyone benefited from risky jobs such as aerial topdressing, and the costs should be shared on a pay-as-you-go basis just like other social services.
"The state doesn't ask itself how many of today's children starting school will go through to university and what it will cost to do that. Do we charge a parent sending a child into the system today for all those future costs or do we let the cost fall each year where it's needed?"
ACC overcharge - according to Owen Woodhouse
Employers, per $100 Current*: $1.32 Woodhouse: $1.00
Workers, per $100 Current*: $1.70 Woodhouse: $1.00
Cars, per licence Current*: $228.23 Woodhouse: $100.00
Motorbikes under 600cc Current*: $376.86 Woodhouse: $50.00
Motorbikes over 600cc Current*: $490.96 Woodhouse: $50.00
*Current (April 2010), Includes GST