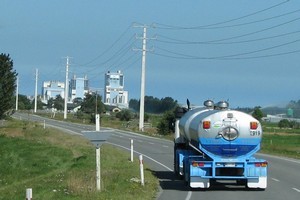 New Zealand's terms of trade - the amount of imports that can be funded by a fixed quantity of exports - rose to its highest level in 37 years in the second quarter, driven by gains in export prices of dairy products, petrol products, meat and wool.
The terms of trade climbed 2.3 per cent to 1295 in the three months ended June 30, reflecting a 1.8 per cent increase in export prices and a 0.5 per cent decline in prices of imports, according to Statistics New Zealand. That marked the seventh consecutive quarterly rise to the highest level since the first quarter of 1974.
The quarterly data coincides with a season in which Fonterra is paying farmers a record $8 to $8.10 before retentions for the milk and share of other earnings. Global commodity prices have been soaring on demand and reached a record high in May, based on the ANZ Commodity Price index, which has edged lower in the past two months.
"We have a positive medium-term outlook for the terms of trade and see it remaining high relative to history," said Philip Borkin, economist at Goldman Sachs & Partners New Zealand. Still, "we do believe it is now close to a near-term peak and will moderate slightly over the next two years as export prices retreat from current high levels."
Borkin said there are signs the rural sector is starting to spend and invest more rather than simply paying down debt, which should yield "positive growth multipliers" for the wider economy.
In the latest quarter, dairy prices rose 4.5 per cent, petroleum products rose 12.8 per cent, meat gained 2.9 per cent and wool was up 12.2 per cent
The decline in import prices was led by a 3.4 per cent drop in prices for mechanical machinery, a 4 per cent fall in electrical machinery, a 2.3 per cent slide in transport equipment and a 2.4 per cent decline in food and beverages, Statistics New Zealand said.
Export volumes rose 0.5 per cent in the second quarter, as a 5.6 per cent gain in meat and an 18 per cent jump in fruit made up for a 3.6 per cent decline in volumes of dairy products, a 4 per cent drop in forestry volumes and a 6.4 per cent decline in volumes of petroleum products.
Import volumes fell 2.4 per cent, the first decline since the second quarter of 2009, with a drop in aircraft imports and fuel cited as the drivers.
The terms of trade for services fell 0.9 per cent.