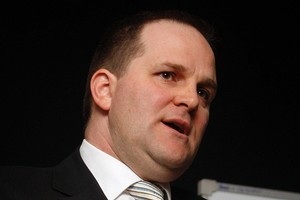 Finance company advertising strategies were not subtle.
Splash a number on a page/screen, tack on a celebrity endorser if you were a big player (and could afford a big player) and... that was about it.*
It worked amazingly well until the truth behind those numbers eventually emerged.
Well after the fact the New Zealand government has moved to impose more formal discipline on how financial products are advertised - included in the draft Financial Markets Conduct Bill, which is intended to update current securities law.
According to the press release rolled off the Commerce Minister Simon Power's assembly line: "Civil pecuniary penalties of up to $1 million for individuals and $5 million for companies if they make misleading statements in a product disclosure statement and advertisements. This would include celebrities if they are a party to the contravention."
But aside from limiting endorsement opportunities for Colin Meads and co - no bad thing in itself - the proposed financial product advertising reforms are loosely defined.
Not so across the Tasman. The latest in the constant stream of consultation papers flowing out of the Australian Securities and Investments Commission (ASIC) spells out proposed financial product advertising guidelines in great detail - even down to the level of what the advertisements can spell out and in what font size.
"... terms and phrases should not be used in a particular way by industry where this usage is inconsistent with the ordinary meaning commonly recognised by consumers (e.g. 'free', 'secure', and 'guaranteed')," the ASIC proposals state.
The document is another ASIC classic - 84 pages of mind-numbing bureaucratic prose.
In the preamble, ASIC refers to several of its surveys that have confirmed advertising actually works. Almost half of those in one of its surveys said they would use "media-based information sources to make an investment decision".
"A further 7 per cent said they had used or would use these media exclusively to seek investment opportunities and advertisements," ASIC says of a market segment advertisers would dearly like to have more direct contact with.
In another study the Australian regulator probed specifically into the advertising-susceptibility of investors in "unlisted, unrated debentures".
"The research found that many investors were attracted and/or influenced by product advertising and, for some investors, the frequency and format of the advertising acted as a proxy for quality," ASIC says. "Those investors who had invested with the two debenture issuers that had gone into administration were much more likely to be among those who cited advertising as the number one influence on their investment decision when compared against the other investor groups studied (88 per cent )."
The lessons for financial product advertisers in New Zealand are clear: you can always fool enough of the people all of the time.
* Plus all the real product information and risk factors rendered in point 6 font at the bottom of the page