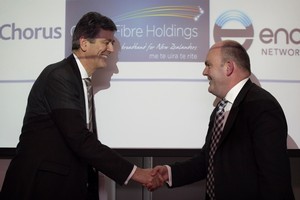 Telecom's plan to split in two has the green light from the Government and requires only shareholder approval to go ahead.
Communications Minister Steven Joyce said yesterday that he had signed off Telecom's proposal on how assets would be divided if it splits up later this year.
Joyce said Government assent to the plans kick-started the biggest change in the telecommunications industry in 20 years.
The split is dependent on a shareholder vote, but before this happens, Telecom will issue a booklet to investors detailing the separation. Analysts say the booklet could be out next month.
Telecom proposed the breakup as part of its bid for Government broadband contracts, which it won the bulk of in May.
As part of its agreement with the Crown, network-operator Chorus will become a separate public company and deploy thousands of kilometres of fibre internet cables in 24 towns and cities around New Zealand.
Telecom will then become a standalone retail business selling phone, internet, IT and some wholesale services.
In draft separation plans released by the company in July, the split would see Chorus get the copper network and Telecom most radio towers and mobile phone infrastructure.
The new Telecom would keep ownership of Australian-based AAPT as well as its 50 per cent stake in the Southern Cross submarine internet cable between Auckland, Sydney and Los Angeles.
Despite Chorus being the key player in the Government's ultra-fast broadband scheme, Telecom will still own some of the fibre backhaul running up and down the country.
Craigs Investment Partners' Geoff Zame said in July the cost of the split could be between $200 million and $400 million.
Forsyth Barr's Guy Hallwright estimated the breakup would add $300 million to Telecom's capital expenditure.
In Telecom's full-year financial results this month, the company wrote off $275 million from copper assets that would no longer be relevant to either company if the split goes ahead.
The company's stocks have climbed almost 80c since April and are tipped by some analysts to reach almost $3.
Telecom shares closed down 3.5c yesterday at $2.73.