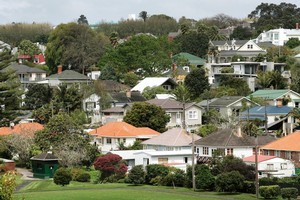 First home buyers keen to gain a foothold on the property ladder have helped drive growth in the Auckland suburb of Otahuhu to a New Zealand high.
Click here for map.
Figures from Quotable Value New Zealand show property values in Otahuhu rose by almost 10 per cent in the year to August, edging out the inner Auckland city suburb of Point Chevalier (up 9 per cent) and neighbouring Westmere on 7.4 per cent growth.
QV research director Jonno Ingerson said Otahuhu was a popular area with first home buyers, while property values had come off a low base with a number of forced sales dragging down prices previously.
Prices for property in the North Shore suburbs of Forrest Hill and Sunnynook were also being driven by an active first home buyers' market, he said.
The median sales price in Forrest Hill is $569,667, up 5.7 per cent on last year and in Sunnynook values climbed 5.6 per cent to $495,056.
Two Christchurch suburbs, Redwood and Beckenham, which were largely unaffected in the September and February earthquakes, also featured in the top 10 suburbs by property value growth.
One Christchurch real estate agent said Redwood in particular was seen as an affordable part of town for first and second home buyers and was close to amenities including the Northwood Supa Centre.
Saint Johns and Meadowbank to the east of Auckland city, also showed strong gains during the year, as demand for homes in quality suburbs, coupled with a lack of listings, drove up prices.
The Whangarei suburb of Hikurangi was the hardest hit during the year with the value of property there plummeting by 16.6 per cent to $168,222, and in Kaitaia in the Far North values fell 13.7 per cent to $153,833.
"Values in parts of Whangarei and the Far North have been hard hit over the past 12 months, suffering from very low sales activity and a lack of confidence fuelled by difficult economic conditions for businesses and high levels of unemployment," Ingerson said.
Ohakune in Ruapehu, Naenae in Hutt City and Outer Kaiti in Gisborne rounded out the bottom five suburbs.
One Kaitaia estate agent said the banks had virtually stopped lending and this had hit the area hard, although the market was slightly better than 12 months ago.
"Whether it be residential property or farms, the banks have really just screwed things down.
"The market is better, but we are still in a difficult market and I don't really see that changing for a little while."
Top 10 suburbs
1. Auckland, Otahuhu, up 9.9 per cent to $319,111
2. Auckland, Point Chevalier, up 8 per cent to $711,778
3. Auckland, Westmere, up 7.4 per cent to $952,222
4. Auckland, Saint Johns, up 6.3 per cent to $706, 389
5. Auckland, Meadowbank, up 6.2 per cent to $675, 222
6. Waipa, Kihikihi, up 6 per cent to $228,944
7. Christchurch, Redwood, up 5.8 per cent to $342,222
8. North Shore, Forrest Hill, up 5.7 per cent to $569,667
9. North Shore, Sunnynook, up 5.6 per cent to $495,056
10. Christchurch, Beckenham, up 5.6 per cent to $401, 944
Bottom 10 suburbs
1. Whangarei, Hikurangi, down 16.6 per cent to $168, 222
2. Far North, Kaitaia, down 13.7 per cent to $153,833
3. Ruapehu, Ohakune, down 10.5 per cent to $208, 889
4. Hutt City, Naenae, down 9.7 per cent to $244,222
5. Gisborne, Outer Kaiti, down 9.7 per cent to $140, 556
6. Invercargill, Richmond, down 9.7 per cent to $198,000
7. Central Hawkes Bay, Waipukurau, down 9.6 per cent to $176,444
8. Opotiki, Opotiki, down 9.4 per cent to $156, 722
9. Rodney, Wellsford, down 9.3 per cent to $232,778
10. Matamata Piako, Te Aroha, down 8.8 per cent to $210,111
View Bottom NZ suburbs - last 12 months in a full screen map
The NZ Herald Property Report, which includes Quotable Value statistics from more than 400 North Island suburbs, is out on Monday, September 5.