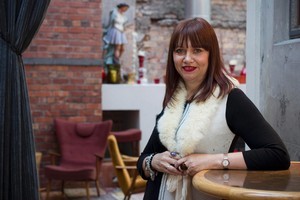 Hotels are breaking their necks to make the most of the Rugby World Cup and Hotel DeBrett is no exception, but co-owners Michelle Deery and husband John Courtney, of the chic inner-city Auckland hotel, have calmly turned down a World Cup sponsor who wanted to take it over for the duration of the event.
"We see ourselves as being part of this community," she says. "Our guests have busy lives. We did not want to drive away regular customers for two months."
The former backpacker lodge at 2 High St, which opened in February 2009, accommodates an eclectic range of business people, musicians, media types and the fashion crowd.
The hotel will be busy during Fashion Week, which kicks off today.
"We've got a lot of international media staying here for Fashion Week," Deery says.
A new cocktail list has been drawn up in their honour.
The couple, who come from a banking and property background in Courtney's case and interior design in Deery's, had travelled a lot, and were looking to create a boutique hotel in Auckland.
The closest comparison to the refurbished 19th-century Hotel DeBrett, says Deery, would be the Firmdale group of boutique hotels in London, which includes the Charlotte St Hotel and the Soho Hotel.
The couple bought the Hotel DeBrett in March 2007. The hotel is owned by the Shortland Street Trust as are Courtney's portfolio of CBD properties which include the General Building across the road. Courtney's property company is called Shortland Management.
The aim of the local hoteliers has been to create a home away from home for their guests, with each room individually designed in lush colours of reds, orange, teals and green.
Some regulars keep a set of toiletries at the hotel for when they are in town.
These loyal customers negotiate their own rates, but the standard room ranges from $300 to $600 a night.
Guest have a private drawing room, the house bar and an award-winning 50-seat restaurant, The Kitchen, now run by former Blanket Bay chef Mark Sycamore.
As well as out-of-towners, the hotel hosts weddings, business functions and is popular for media shoots.
"The Shortland St law community will often book our courtyard for drinks," Deery says.
The co-owner won't say how much they have spent on the transformation which includes a lofty glass atrium, courtyard and first floor walkway - masterminded by a trio of designers including Mark Gascoigne, architects, Mitchinson Simiona and Stewart Harris from Martin Hughes.
"We are getting close to paying it off," Deery says.
The couple have recently reopened the Cornerbar, on the corner of High St and Shortland St, after taking the lease back under their control.
It attracts a younger clientele who frequent it during the week as well as weekends.
With its own chef, it provides a short menu, craft beers and good wines by the glass.
"The whole business is trying to promote New Zealand so everything is as local as possible," Deery says.
The biggest challenge for the fledgling hoteliers has been building the team of 63 staff, keeping it as local and constant as possible. "Customer service is crucial. We have a core of fantastic staff," Deery says.
The couple's efforts have been well received. Courtney confirms he has had offers to buy the hotel.
Deery says another hotel project is possible and the Auckland waterfront appeals.