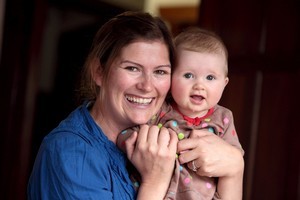 For most new parents, having a baby means a drop in income propped up only by government payments for the first 14 weeks.
But for a few lucky mums and dads, employers are bucking the trend and offering generous incentives worth thousands of dollars.
Deals include topping up the Government's $458.82-a-week maximum before-tax payment so workers receive full pay. Other workers get bonuses on return to work.
Paula McCarthy - who's about to return to work after six months off with her daughter, Ciara - is one of the lucky ones.
The senior project manager's employer, Vodafone, topped up her 14-week government allowance to the level of her basic full-time pay. In addition, annual leave accrued while she was away will be paid at the full rate, rather than the standard practice of the average of a day's pay over the previous year.
"I talk about it with other people and it seems to be a good enough deal. Vodafone has been really good. Very supportive," she said.
If she'd taken maternity leave back in her native Ireland though, she would have received a better deal still: 24 weeks' full pay.
Vodafone also guarantees mums returning to work the right to work part-time for at least the first four months. The company's manager of human resources, Michael Stanley, said the company wanted all women to choose to return to work after maternity leave.
"It makes no economic sense to allow trained, experienced, high-performing staff to leave."
He said dads at the company received the same benefits.
Personnel recruitment specialist Julie Cressey, chief operating officer at Madison Recruitment, was amazed by such contracts.
"I haven't heard of people getting much more above the Government's paid parental leave."
However, she did know of an employer who topped up the first six weeks of government allowance to a full salary, then paid a lump sum of six weeks of full pay six months after returning to work.
"It comes down to how much the employer wants that person to come back to that role," Cressey said.
Allie Hooper, mum of 6-week-old Mateus, received one of the best deals around. Her employer, a US-based company with branches all around the world, provided her with 12 weeks' full pay at the start of maternity leave, followed by the 14-week government entitlement.
"I always knew that it was good," she said. "It makes you loyal to the company."
Telecom spokesman Mark Watts said the company offered workers an additional week's leave for staff whose partner had a baby. Staff who took extended parental leave received an extra six weeks' pay, four weeks of which was paid when they returned to work.
Ingrid Gavin, on leave from her government sector job while caring for 7-month-old Bruno, would receive a bonus of one month's salary payable six months after her return to work provided she was working at least 80 per cent of full- time.
See www.dol.govt.nz/paidparental
Getting a good deal
Here's what some employers are doing for new parents:
* Three months' full pay at the start of maternity leave
* A one-month bonus on return to work
* A six-week lump sum bonus payable six months after returning to work
* Top-ups so the Government's paid parental leave allowance is made up to equal a full-time salary