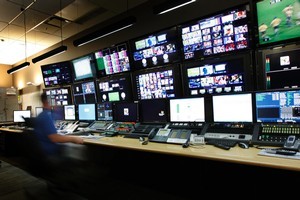 Sky Television's ad campaign promotes the pay-TV broadcaster as "your happy place".
For investors there are plenty of reasons to smile. Sky's TV satellite service is in 51 per cent of New Zealand homes, it is the biggest owner of television programming and host broadcaster for the Rugby World Cup.
However, subscriber growth has been slowing and it is taking more effort to attract new subscribers.
That is where "Project Purple" comes into play - a plan to provide a lower-cost pay TV option to get people who want more than Freeview but aren't prepared to pay for a full Sky satellite package.
Ownership of free-to-air Prime TV allows it to capitalise on delayed telecasts for its Sky sports events, and for the cash-rich company to compete with free TV channels for international content.
Elsewhere at the "happy place" studios in Mt Wellington, Sky is preparing for the growth of internet TV with i-Sky, allowing subscribers to download movies from the internet.
But perhaps the bigger earner will be in exclusive programming deals for new services.
There are also lingering rumours that Sky is the most likely bidder for the ailing MediaWorks empire including TV3, Four and half of New Zealand's radio stations.
Sky has done a very good job running a monopoly but not being so evil that people feel it needs to be broken up, says Telecommunications Users Association of New Zealand (Tuanz) chief executive Paul Brislen.
It is well managed. Being 43 per cent owned and effectively controlled by the Rupert Murdoch media empire has its benefits.
Chief executive John Fellet has a reputation as a canny operator.
But a big reason for Sky's success is an unwillingness by successive governments to examine the broadcasting market - let alone regulate it - protecting a listed company while ignoring warnings it is undermining competition.
Enter the Commerce Commission, which is looking into the demand-side issues that might influence the uptake for the Government's ultra-fast broadband initiative.
Companies like TelstraClear argue that Sky's hold on internet programming rights, combined with its lack of transparency and its exclusivity, will give it a gatekeeper role in the new era of internet TV and discourage new pay-TV providers on ultra-fast broadband.
Sky TV submissions for the terms of reference of the study included a terse warning that it must not escalate into a full-scale investigation.
That would allow the first objective examination of Sky TV and its dominant place in New Zealand, and the potential for regulation could knock the share value.
Brislen says video and television content is a driving force for ultra-fast broadband and having only one pay TV player is detrimental.
Sky "appears to be" a monopoly, he says. "It has a free-to-air channel and they seem to have quite a lock on content. They have done a very good job of sewing up all the loose ends and that concerns me.
"We would like to see more competition in pay TV but we have been unable to know what is the interest in the market.
"Sky clearly has the view that pay-TV is an expensive business because it has taken a long time to make a profit. It is proving to be difficult to get subscribers.
"On the other hand I do not know of any country that only has one unregulated pay-TV provider and one that also owns a free-to-air channel.
After two decades where it has enjoyed a free rein and extraordinarily successful political lobbying, Sky TV blanches at the concept of regulation.
Chief executive John Fellet said criticism was only coming from competitors who thought there needed to be regulation when there was nothing wrong.
Free-to-air networks like TVNZ and MediaWorks accused Sky of dominating sport and other programming, but Fellet was still being outbid.
There was already competition in pay TV, Fellet said, with TelstraClear's Saturn cable network in Wellington and Christchurch - which it supplies with programming - along with Google TV and Apple TV. (Brislen points out neither offer consumers a proper TV option).
The truth is that the clouds on Sky TV's horizon contain sunshowers not thunderstorms.
The biggest concern for the company will be that investigations will be based on objective business analysis rather than reports from government departments that look at the market through the rose-coloured spectacles of government policy. Even if regulation of the pay-TV market is recommended, it could be rejected by the government of the day.
Brislen says Tuanz will be working with the commission on the demand-side study, but backs the idea of a full-scale investigation of the pay market.
"It may be that Sky TV is dead right and we have a market that is too small and is already well served - and that nobody wants to come here - in which case they have got a monopoly by default."
Rosalie Nelson of telecommunications analyst IDC says there is not a strong appetite for a heavy handed regulation in this country.
"But nonetheless we do think there will increasing pressure for more openness about access and issues about content and control will continue to to be contentious."
Your unhappy place
A non-scientific grab bag of gripes about Sky.
* Too many repeats of movies - raising questions about the value of the movie package.
* They could show much more live sport rather than repeats of rugby, league, and UK darts.
* It doesn't feel Kiwi - you feel like you are watching TV in Australia.
* Since the Documentary Channel became BBC Knowledge, there is virtually no New Zealand content.
* Too many ads - we got Sky so we could get away from them.
* Programme details on MySky are sometimes hard to read and don't detail what is in individual shows.
* Whole chunks of the listings in the SkyWatch magazine can be wrong, wrong, wrong.
* The cost can top $100 a month and there is no pay-TV alternative.
* It takes several days to get a technician to fix problems, but you don't get a discount.
* The Comedy Channel is cheap and nasty and doesn't feel like a value-added channel.
* It is the worst for constant repetitive inane promotions.