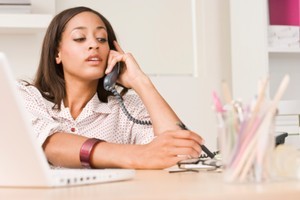 It's time to pick up the phone. Do you have someone to help you do that?
I've just hired someone to help me do just that. To pick up the phone and supplement the other ways we market the business. To be honest though, for me, it's not picking up the phone up again, rather it's pretty much for the first time. Yes it's an expensive venture, but done correctly it will pay off.
Here are the eight reasons I decided on this venture. Perhaps you should consider them for your business.
1. Slower economy. This is affecting most businesses. It's most likely your enquiries/prospects/sales aren't flowing in at the same rate they were in the past. Your choice is to sit there and take it or do something about it. If you already conduct email marketing (newsletters and such) and you're using social media (more on this in a moment) and don't have the funds for advertising or advertising isn't the correct mediaum for your business - you need to do something else. What?
2. Clutter of email. It's very, very, very, very (did I say very) hard to get through now with emails. It's not just spam and corporate email filters; it's the vast quantities people receive vs. their limited time and capacity to absorb. So how do you get through to your target market? Pick up the phone and follow through with a unique email of how you can make their life/business easier, better (etc)
3. Social media. Social media takes a significant amount of work and is mainly useful in generating dollars if it's where your target market is looking and interacting. If your target market isn't young - under 35, then for the most part it's not the correct spot for making money from, full stop. The exception to this is Linkedin which I'll discuss next.
4. Great sources. The internet is a great source of information and easy to find prospects. So it's easy for someone you hire to work it to get prospect lists without purchasing to telephone. For example there's searching on Google naturally, looking through websites but also Association websites are a wealth of information about their members. If you haven't worked the search yet on LinkedIn, you're missing out big time. It's an easy way to find people via industry, location, job type, keyword and more.
5. Not you. As the business owner, this fact finding and initial calling isn't your job (nor mine). Our time is worth more - doing more productive things. While I have my new part time staff member doing the fact finding and calling, I can work on other important income producing activities.
6. Believe in your ability. I believe in my ability. Do you? That means you're confident if you get someone to make an appointment for you and get you in front of a prospect - you'll be able to either make the sale or begin a conversation towards building a business relationship
7. Spend money to make money. You need to look at the long term and overall value. It's an added cost. You'll have down time training. Yes, people do leave. Yes there is training time. However when you add up the cost vs. the income generated over a longer term, it it pays off- it's a no-brainer.
8. Outcome. Start conversation, not sell. The selling of yourself/ your services/ products isn't the role of person doing the telephoning. Their job is to fact find and get you in front of the prospect or vice versa. My secondary goal is to start a long term conversation also. They might not need you today, tomorrow or even in one or two years. But persistency pays heaps. So our aim is to see if we can at least get them on our business newsletter mailing list and then create a periodic telephone follow-up.
9. Incentive for double win. In addition to an hourly rate or salary, it's clever to add an incentive if you can. For all successful deals you close from the initial call made by your staff member - reward them. There is no way this wouldn't work to add an incentive to do their very, very best.
*Debbie Mayo-Smith is an International Speaker and No#1 bestselling author of 14 books.
Contact Debbie on debbie@successis.co.nz
Linkedin: http://nz.linkedin.com/in/debbiemayosmith
Facebook: http://www.facebook.com/debbie.mayosmith.motivational.speaker