Banks are holding on to their money, so why is the Government so generous with ours?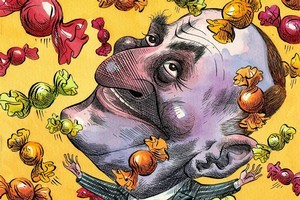 Businesses need money to grow. I think. Actually, I just made that up. Although I have a few extensive areas of specialist knowledge - two-letter words in Scrabble, making cottage pie, that sort of wheeze - this isn't one of them. But I'm going to write about it anyway as it strikes me as quite important. Possibly even more important than gym memberships and sunbeds - two recent areas of abiding concern to the Commerce Commission.
Then again, what would I know? But I do know a business chum of mine went to the bank to extend his overdraft. He talked to the bank manager for an hour - poor fellow, maybe they were swapping cottage pie recipes - but then the bank manager said he doesn't make the decision anyway. I suspect it gets decided by a computer algorithm. I also know that this month ASB Bank reported a profit of almost $570 million, up by more than a quarter on the previous year. Its lending was down 1.2 per cent on the previous year.
And I couldn't help noticing last week the Government handed out $50 million in Technology Development Grants, including almost $6 million for research and development to NextWindow, a Canadian-owned company. Also, last week in Britain, the Telegraph reported there is concern that banks there failed to meet their half-year small-company lending targets. "Small-company lending targets"? Ever heard of them? Not here, I haven't.
In June the Reserve Bank ordered trading banks to tighten their credit criteria for farm lending. So presumably they could just change their algorithm for small-business lending, too, if they wanted to.
So even though this has nothing to do with cottage pie - try nutmeg, it's brilliant - I do wonder why it's so hard for businesses to get money from a bank but it's seemingly quite easy to get rather a lot from the Government? Seems odd to me. I thought National didn't like corporate welfare? What's the chance of NextWindow delivering the hoped-for pay-off after it pockets its 5.9 million clams of government largesse? Paid for by your taxes, sunshine.
Isn't John Key supposed to be a financial whiz? So why don't we have a proper capital market to lend to these companies if they really are a good bet? And if they're not a good bet, then why is our muggins of a Government funding them?
Remember Right Hemisphere? Didn't think so. It's a 3D software company that got more than $14 million in handouts from taxpayers. It was touted by the Labour government as a potential Kiwi success story, taking on the world yadda yadda. Last year Right Hemisphere said it may have to lay off staff and its auditors have raised questions about its future.
So, if it is a good policy idea for the Government to bribe companies to put their R&D here, why don't they at least do it properly? Wouldn't it be fairer to offer up-front tax breaks for R&D that every eligible company can apply for, rather than just the chosen few? I hope some bureaucrat who is not busy on sunbeds is going to make sure the recipient companies do spend their agreed portion on research, since government grants are meant to cover only 20 per cent of their R&D budget for the next three years.
Maybe the people who should be caring about this stuff are like me, too busy playing Scrabble and eating cottage pie.
dhc@deborahhillcone.com
Illustration by Anna Crichton. Email Anna: illustrator@annacrichton.com