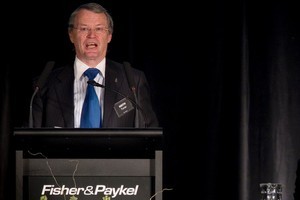 Eyebrows were raised this week after the NZ Shareholders Association's announcement of a special deal with Argosy Property Trust's independent directors.
The association was hailing what it called a "firm undertaking" from Argosy's board that it would morph into a company, offering all the added benefits of transparency and better governance.
"But wait," cried one financial expert not that far from the action. "Shouldn't all the investors be told about that deal - by Argosy rather than the NZSA? Is the deal in writing? Shouldn't we all see it?"
Questions were asked about breaches of NZX listing regulations and continuous disclosure. But experts in Argosy's camp quietly poured balm on the outrage, saying Argosy had always planned to corporatise and there was no special deal with the association. Watch this space.
SHARES TUMBLE
Shares in Fisher & Paykel Appliances plunged yesterday, as the whiteware maker told shareholders it was concerned about volatile economic conditions in key markets.
The stock tumbled 8.7 per cent to 47.5c on the news, delivered at its annual meeting, before recovering slightly to close at 48.5c.
The company forecast full-year group operating earnings before interest and tax (ebit) to be in the range of $42 million to $52 million. That would be a 32 per cent to 18 per cent decrease on the 2011 financial year's $63.5 million group ebit.
Chairman Keith Turner said the Australian dollar's rapid appreciation against the United States currency was favourable for input costs, but the benefits were being "more than offset" by the company's hedging position.
WINNERS AND LOSERS
Results this week have highlighted on which side of the electricity hedging equation companies sat one day earlier this year.
Genesis Energy charged $20,000/MWh during transmission maintenance on March 26, leading to howls of outrage from some customers.
The state-owned enterprise was playing within the rules and it had offered hedges to the market.
Contact Energy was one customer that was hedged, a point chief executive Dennis Barnes couldn't resist making during his company's result presentation.
"That day has not affected us. There are some retailers who have lost many millions of dollars and that would say to me that they're not thinking about their risk in a sustainable way."
Among those caught out was another SOE, Meridian Energy. It said when releasing its results this week that it stands to lose $14 million if a court rules the extremely high prices can stand.
Another on the wrong side of the spike is New Zealand Refining. It did not provide figures but supports the bid to keep the much lower charge of $3000/MWh.
KEEPING IN CONTACT
One promised spin-off of the proposed partial listing of state-owned energy companies is greater transparency under reporting rules. Their listed peers are held up as being far more open than the SOEs, owned by taxpayers but with only two government ministers as shareholders. This is the case, to a point.
At its results briefing Contact Energy outlined how it has had to sharply increase residential customer discounts to stem the exodus which chief executive Dennis Barnes said would put a 3 per cent dent in revenue for the year.
A check with a spokeswoman on which revenue stream this applied to established that it was "mass market" revenue. And the figure?
"We don't disclose the mass market revenue so I can't give you that figure."
Despite a flat full-year result Contact has attracted some investor support after hitting a seven-year low of $4.76 this month. It closed up 12c at $5.31 yesterday.
JOINING THE CHORUS
Telecom's soon-to-be-spun-off network branch, Chorus, has announced the executive team that will work under CEO Mark Ratcliffe.
Chorus is set to become a separate public company by the end of the year, so it can take part in the Government's ultra-fast broadband scheme.
If shareholders accept the Telecom-Chorus split, the following positions will be finalised: Ed Beattie, general manager of property and network operations; Sara Broadhurst, general manager human resources; Chris Dyhrberg, general manager of network build; Vanessa Oakley, general counsel and company secretary; Ewen Powell, chief information officer; Nick Woodward, general manager customer services.
The company has yet to decide on a chief financial officer and the position will be filled temporarily by Brian Hall.
DOUBLE BLOW
New Zealand Oil and Gas has taken a couple of hits from its written down stake in Pike River Coal and a downgrade of estimates of reserves in the Tui oilfield. Not surprisingly, the company says impact on its share price has been overdone. It's pre-Pike River tragedy share price of $1.35 fell to a low of 58c.
The July downgrade knocked the share price by about 16c to 17c a share but the company is citing analyst research that it was worth 10c to 11c. Chief executive David Salisbury says the company is surprised at where its share price sits.
"There is a sense that the company is a little bit caught up in a cycle of bad news."
He does have support from analysts. Five reports since the Tui downgrade put the stock at an average of $1.10 a share.
Its shares closed up 5c at 67c yesterday.
NZOG must now find a new field in addition to its stake in Tui and Kupe. To that end it could spend US$100 million overseas within the next six months in addition to major exploration off southern Taranaki over summer.