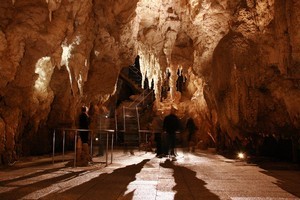 Tourism Holdings, which was the subject of a failed takeover attempt, posted a full-year loss after writing down goodwill on its rentals business in Australia and New Zealand.
Sales rose 7 per cent on the contribution from its Road Bear unit in the U.S. and increased fleet sales.
The loss was $27.3 million in the 12 months ended June 30, including a $26 million impairment, from a profit of $4.6 million a year earlier, the company said in a statement. Operating revenue climbed to $195.8 million from $182 million.
The campervan rental and tourist venture company has faced the impact of disruptions from the Christchurch earthquakes and floods in Queensland, while the down-under currencies' gains against the pound and the euro have made its operations look relatively more expensive to visitors.
The company described the natural disasters and currency gains as "an unprecedented series of impacts" on visitor numbers.
Tourism Holdings reiterated the 2012 forecasts it gave in its target company statement as part of the unsuccessful attempt by shareholder Ballylinch LP to lift its stake to above 50 per cent from 19 per cent, which closed short of its target this month.
It sees earnings before interest and tax of $17.2 million and net profit of $5.9 million.
The shares last traded at 63 cents and are down 21 per cent this year. Switzerland-based investor John Grace's Ballylinch had offered 67.5 cents a share to lift its stake to as much as 52.2 per cent.
A valuation by Simmons Corporate Finance said the company was worth 97 cents to $1.27.
Tourism Holdings said ebit at Road Bear, the American campervan company it acquired last December, was above expectations at $300,000.
Its CI Munro unit had ebit of $500,000 compared to a loss of $1.9 million a year earlier.
Earnings from its fleet rentals in New Zealand rose 5 per cent to $2 million while in Australia, ebit fell 64 per cent to $$2.7 million as it increased the number of vehicles.
Its manufacturing business reported ebit of $500,000, on growth in sales to its rental units.
At the company's tourism businesses, ebit fell 36 per cent to $3.9 million.
Tourism Holdings won't pay a dividend.