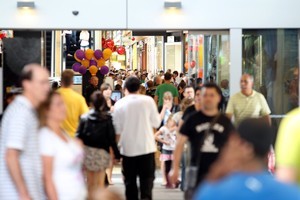 New Zealand retail spending grew at a faster pace than forecast in the June quarter as households feel more confident to hit the stores.
The total volume of retail spending grew a seasonally adjusted 0.9 per cent in the three months ended June 30, according to Statistics New Zealand data, beating the 0.6 per cent expansion picked in a Reuters survey of economists. Stripping out motor vehicle related spending, the core figure grew 1 per cent.

The value of retail spending, which accounts for both sales volume growth and price hikes, climbed 1.7 per cent in the quarter to $16.94 billion, and was 4.1 per cent ahead of the same period a year ago. The value of core retailing grew 1.4 per cent to $13.01 billion and is up 3.1 per cent from June 2010.
Earlier this month, the ANZ Roy Morgan consumer confidence survey showed people are the most optimistic they've been for seven months, and today's figures pick up on a growing trend of data showing New Zealand's economic recovery is gathering pace ahead of expectations.
Of the 15 industries surveyed, 12 reported increased sales, led by a 4.9 per cent increase in the value of spending on motor vehicles and car parts rose to $2.06 billion on a 4.2 per cent increase in volumes.
Supermarket and grocery store spending grew 1.6 per cent to $4.25 billion on a lift in volume of 0.2 per cent, and the value of electronic goods purchased climbed 7.2 per cent to $679 million on a 10 per cent gain in volumes.
The value of quarterly spending on fuel rose just 0.1 per cent to $1.86 billion on a 4.1 per cent decline in volume.
Spending on hardware, building and garden supplies fell 1.6 per cent to $1.12 billion, non-store and commission-based retailing fell 4.7 per cent to $210 million, and specialised food spending dropped 4.3 per cent to $311 million.
Though the data set doesn't drill into a regional level, it indicated spending on hardware, building and garden supplies and fuel grew significantly more in Christchurch.
Wellington reported the fastest growth at a regional level at 1.8 per cent, followed by Canterbury at 1.2 per cent. Auckland was the slowed at 0.2 per cent.
Last week, Reserve Bank data showed total credit card billings grew 1 per cent to a seasonally adjusted $2.47 billion in July compared to the same month a year ago for an annual pace of 7.3 per cent growth.