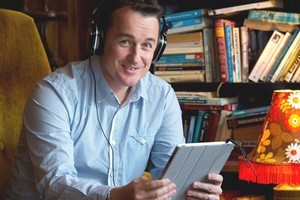 Kiwi software which adds a "movie-like sound experience" to e-books is being launched in New York today and has the financial backing of Facebook billionaire Peter Thiel and New Zealand entrepreneur Derek Handley.
Booktrack, created by New Zealand brothers Mark and Paul Cameron, plays music and other ambient audio while text is being read on a mobile device, keeping pace "word-for-word" with the reader.
Co-founder Paul Cameron said Booktrack will change the reading experience for the millions who use e-readers around the world.
"Millions of commuters and others read while listening to music that is disconnected or at odds with the book they are reading on their mobile devices. With Booktrack, they have a complete movie-like experience that transforms their enjoyment of the text and which keeps perfect pace with both their reading speeds and imagination," he said.
The software has the backing of tech heavyweights, including early Facebook investor Peter Thiel, Facebook's director of global creative solutions Mark D'Arcy and co-founder of the Hyperfactory, Derek Handley.
Thiel is Booktrack's lead investor, while D'Arcy is a company directory and Handley is its chairman.
Handley said he was skeptical of the technology at first, but was converted just 30 seconds into his first demonstration.
"Ten or twenty years from now it will be absurd to think of creating a book without Booktrack, it will be like creating a movie with no sound," he said.
Booktrack editions are available from the Apple App store and will be released for Android users later in the year.
Initial titles include Sherlock Holmes, Pride and Prejudice, Romeo and Juliet as well as James Frey's new novel, The Power of Six.
The soundtracks were developed in a collaboration between HarperCollins, SonyATV, Wellington's Park Road Post Production and the New Zealand Symphony Orchestra.
The project also had support from the Ministry of Science and Innovation and New Zealand Trade and Enterprise.