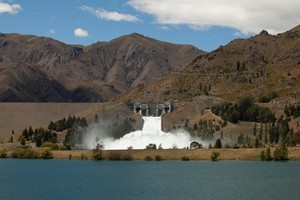 Meridian Energy's underlying full year net profit fell 13 per cent to $219 million, as depreciation charges and net finance costs rose.
The state-owned enterprise said the fall in underlying profit for the year to June was largely driven by a $35m lift in depreciation charges following a revaluation of generation assets, and a $22.6m rise in net finance costs due to funding needed for generation developments.
Meridian said it was to pay a final dividend of $69.4m on October 31, having paid a dividend of $684.6m during the financial year.
Meridian is this country's largest electricity generator, owning and operating Manapouri power station and six hydro stations on the Waitaki River in the South Island, four wind farms in New Zealand, and one in Australia. It also has a solar farm in California.
It lost some generation capacity with the June 1 sale of the Tekapo A and B hydro stations to Genesis Energy, for which it received a one-off net gain of $157.4m.
Meridian has about 270,000 individual customer connections, and chief executive Tim Lusk said that in the latest year it increased customer installation points 7 percent.
Earnings before interest, taxation, depreciation, amortisation and financial instruments (ebitdaf) rose 3 percent to $659.9m, with the result including $28.1m net of legal expenses received after a settlement concerning liability for electricity during the 2008 potline outage at the Tiwai aluminium smelter.
Other factors in the result were a relatively flat electricity demand compounded by the Christchurch earthquakes and the warm autumn and early winter, high hydro storage levels and the loss of Tekapo generation.
Group net profit, including the gain from the Tekapo sale rose $119.1m from a year earlier to $303.1m.
- NZPA