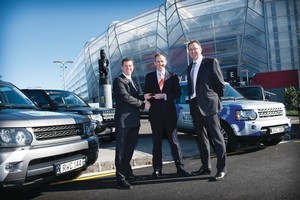 Land Rover has signalled the final stage of its preparations for the Rugby World Cup by handing over a special fleet of vehicles to the tournament organiser.
The four-wheel-drive specialist has provided 30 vehicles to organisers and officials, made up of Range Rover Sports and Land Rover Discoverys.
The vehicles have been customised with RWC branding, number plates and commemorative badging to celebrate the event.
Kit McConnell, tournament director of the Rugby World Cup, says the "vehicles would be put to good use to ensure that the tournament was run smoothly".
Land Rover is also supplying another 42 vehicles for VIP and international media use during the tournament, bringing the total number of Land Rovers and Range Rovers imported specifically for the tournament to 72.
The retail value of the vehicles is more than $8 million and all the vehicles will be sold via the Land Rover dealer network following the tournament.
James Yates, group general manager, Land Rover New Zealand, says the company was "extremely excited to be providing a fleet of vehicles to help with the organisation of the tournament and Land Rover's global leveraging programme".
"The comfort, space, and versatility that Land Rovers are renowned for makes them the perfect choice for VIPs to enjoy New Zealand's challenging terrain and spectacular scenery."
Land Rover's support of RWC 2011 and RWC 2015 builds on the company's long-term relationship with rugby. It has been the official vehicle of the British and Irish Lions, supporting them on their 2005 and 2009 tours to New Zealand and South Africa.
In Britain, Land Rover has been the official vehicle of premiership rugby since 2002, and is developing the grassroots of the game through the Land Rover Premiership Rugby Cup, a nationwide tournament for under 11s and under 12s.