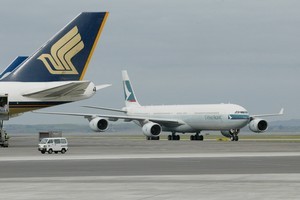 About 27,000 Rugby World Cup visitors will stay in New Zealand for at least a month, according to figures from tournament officials.
World Cup organisers updated the number of expected visitors from 85,000 to 95,000 - almost 60 per cent higher than original forecasts.
The visitor numbers are calculated from ticket sales, and part of the figure has come from assuming that every 3.5 travel packages sold equates to one visitor.
Most of the rest is based on direct overseas sales - and the results of a survey that indicates every 10 overseas ticketholders will be accompanied by one person without a ticket and two who have got their tickets through friends and family in New Zealand.
The same survey found that 28 per cent of visitors planned to stay at least a month.
Two years ago, 60,000 visitors were forecast. Australia had 65,000 for its Cup tournament in 2003. "This is tremendous news and a real sign of just how big Rugby World Cup 2011 will be for our country," said tournament chief executive Martin Snedden.
"The upsurge in support from overseas fans is a strong sign of confidence in our ability to host the biggest sporting event New Zealand has ever held."
In three months since the last ticketing update, the British and Irish market has leaped, its expected visitor numbers growing 28 per cent, or more than half the total increase at 5500.
One thousand of the extra visitors will come from Australia, which now has a total of 30,000. There are 25,000 expected from Britain and Ireland, and 10,000 from France.
"It's also terrific to see good numbers coming from the Americas, and that USA, Canada and Argentina will be well supported," Mr Snedden said. "Our estimates suggest 10,000 from these countries."