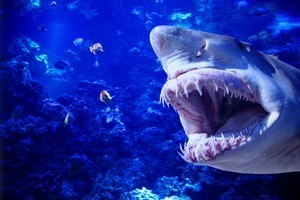 It was heartening to read Simon Power's apparent change of heart on the loan shark issue.
Last year National was quick to vote down Carol Beaumont's attempt to do much the same thing , just out of spite presumably.
Maybe it was the additional research that pushed Power to take a stand against the sharks. And the reports released by the Ministry of Consumer Affairs and Colmar Brunton are interesting enough - adding a statistical gloss to our intuitive sense that those living on the edge of the money world can be subject to abuse by frontier financiers.
In his speech to the Financial Summit Power has rattled off a list of things that the government's gonna do about the sharks soon, and all credit to him for pushing the agenda.
But his speech included this amazing comment:
"Perhaps the most interesting is that between 35 and 40 per cent of third-tier lenders are not on the Financial Service Providers Register, as they are required to be by law."
That's not interesting, that's obscene.
The Ministry of Consumer Affairs report explained the situation like so:
"Many third-tier lenders are sole traders and many would appear not to have complied with regulations to register and belong to a dispute resolution scheme.
"This indicates an industry which perhaps operates simple business models and sometimes lacks awareness of compliance requirements. Any efforts to coordinate or regulate this industry to improve outcomes for consumers will likely face challenges similar to that with the regulation of financial advisers."
But given that over a third of loan sharks are already breaking the law why can't our financial regulator do something about it now?
Instead of writing letters to investors reminding them not to be stupid , why isn't the Financial Markets Authority stopping those rogue sharks from swimming?