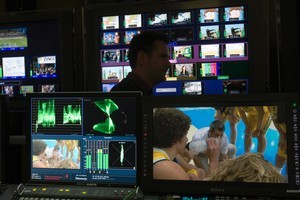 Sky Television has confirmed that proposals are still alive for converting its shelved analogue radio frequencies to a new "Sky-Lite" digital terrestrial platform for pay TV.
An internal study called "Project Purple" has Sky actively working on proposals for a digital terrestrial platform of maybe 20 channels.
Some 51 per cent of New Zealanders are subscribers of Sky's digital satellite service but it is becoming hard work attracting new viewers to its basic package. A second, cheaper, pay platform would help increase its uptake.
First NZ Capital analyst Sandra Urlich traversed the issue of the digital switch in a research note last week. She said that 285,000 homes would be left over after the switch and might take up new digital options. Sky might pick up half of those.
Without referring directly to the option of a digital terrestrial platform, she said Sky had to be careful not to cannibalise existing customers. A second pay TV platform would entrench Sky's dominance of the TV industry and undermine the free-to-air digital platform Freeview.
If the set top box for "Sky Lite" was linked to the internet it would also provide an advantage when internet TV and movie downloads became mainstream. Sky has until the digital switchover in December 2013 to commit to digitalising the four analogue networks shelved when its analogue channels were pulled in March last year. After that it has another two years to implement plans. But Sky TV chief executive John Fellet tipped a decision before the switch.
Sky was also considering capacity from digital terrestrial being combined with its digital satellite TV operation to allow more channels.
Fellet said the other option was for Sky to return the frequencies to the Crown. But that seems unlikely given the strategic advantage they give Sky over Freeview.
Sky Lite would have dominance of the TV industry at a time the Government is resisting regulation of Sky, and while the Commerce Commission is looking at issues such as Sky's hold on content and how they might affect the demand for the Government's Ultra-Fast Broadband initiative.
Fellet said Sky might pick up more than 50 per cent of customers forced to decide whether to go for pay TV or Freeview after digital switchover.
"Around the world digital switch- overs have tended to help pay TV operators."
ON THE BOX
* The analogue TV platform will be gradually closed down from September 2012.
* Over the next 15 months 282,000 remaining analogue TV viewers will choose a digital TV option - Freeview or Sky TV.
* One analyst estimates that Sky TV could pick up half of those people.
* Sky says it might get more than half and it is looking at a low-cost option that would draw them over.