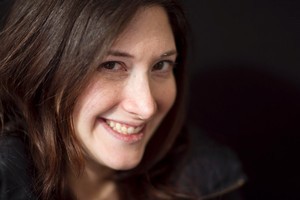 Anyone who saw the film The Social Network would never have known Facebook founder Mark Zuckerberg had a sister.
But now Randi Zuckerberg is making headlines of her own - after six years' working in her younger brother's shadow as Facebook's director of market development, she's jumping ship to set up an independent social media company.
The tech bloggers of Silicon Valley are rubbing their hands at the prospect of some sibling rivalry to follow on from the multiple lawsuits that the younger Zuckerberg - he's 27, she's 29 - has endured over the parentage of his wildly popular website.
But older business analysts wonder if this might be the online equivalent of the great Dunkin' Donuts rift of the 1950s, when one of the two original partners behind America's most popular snackshop broke out on his own with the rival Mister Donut franchise. (They were later bought by the same corporate parent and reunited after nearly 40 years.)
More perplexed tech watchers wonder what Randi hopes to achieve that she hasn't already in one of the world's fastest growing companies.
Her new outfit has a name, RtoZ Media, but no publicly defined goal, no employees and no fully functioning website - yet.
Randi is unlikely to be planning anything excessively controversial. She just gave birth to her first child and has been on maternity leave. She appears to have decided to have fun with her money and instantly recognisable last name to branch out on her own, without doing anything to damage the Facebook brand she worked so long to help establish.
"I'm proud of what I've done here ... but I know I'll be able to do just as much, or more, for Facebook once I'm on the outside," she wrote in her resignation letter last week.
Her goal was "to launch my own innovative programming and work with media companies", adding: "Facebook will clearly be a central element in all my projects."
She might not have a reputation as a cutting-edge innovator like her brother, but Randi is no slouch. She too went to Harvard, graduating in psychology at about the time Mark was dropping out to focus full-time on Facebook.
At first, she thought she would study to be a cantor - the singer who accompanies the rabbi in Jewish services - but changed her mind when it became clear there was an irresistible new family business to join.
In Silicon Valley, she's known as someone unafraid to let her hair down and have a good time. She once made an amateur music video, celebrating the demise of Facebook rival Friendster with a tongue-in-cheek ditty she called Valleyfreude.
She has sung periodically since, and written a column for Tina Brown's online publication The Daily Beast. Her sense of fun is strictly the non-scandalous variety, however: she's been with husband Brent Tworetzky, a venture capitalist, since they were both at Harvard.
In her professional life, she's worked hardest to marry Facebook with traditional media initiatives - broadcasting a presidential debate in 2008, bringing the World Economic Forum in Davos to Facebook's huge global audience and launching Facebook Live, which she used to relay a town hall meeting held by President Barack Obama.
Does that qualify her as a high-flyer on a par with her brother, Steve Jobs or Bill Gates? Not exactly.
But it sets her up nicely as a high-profile consultant to the great and the good of corporate America, who want to integrate social media into their marketing and outreach plans.
Just before she resigned, Randi argued at a discussion hosted by Marie Claire magazine that the best way to police social networking sites was to make everyone use their real names. That didn't endear her to the more radical online community, for whom anonymity and identity-shifting are part of the great internet experiment.
But it did send a reassuring message to conservative executives who might be nervous embracing a communication tool over which they have limited control. She's likely to be talking to a lot of those people soon.
- OBSERVER