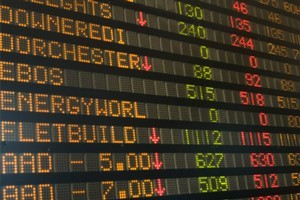 The New Zealand sharemarket rose strongly in early trade today, after stocks shot up 4 per cent in the United States as bargain-hungry investors overcame the recent wave of fear that drove selling around the world during the past two weeks.
Around 10.15am the benchmark NZX-50 index was up 56.86 points or 1.8 per cent to 3265.47.
Yesterday the New Zealand market had shrugged off earlier sharp falls in the US and Europe to notch up a gain of nearly 25 points.
Early rises today included Mainfreight up 41c to $10.18, Fletcher Building up 24c to $7.75, Trustpower up 18c to $7.15, Port of Tauranga up 14c to $9.20, Nuplex up 11c to $2.43, Steel & Tube up 10c to $2.50, Cavalier Corp up 10c to $3.50, Sky TV up 9c to $5.82, Sky City up 8c to $3.43, and NZ Refining Co up 8c to $3.30.
Kathmandu gained 7c to $2.08, Contact Energy lifted 7c to $5.00, The Warehouse was up 6c to $3.46, Ryman Healthcare added 6c to $2.64, Ebos Group lifted 6c to $6.66, and Telecom was up 5.5c to $2.55.
The few early falls included OceanaGold down 8c to $2.62, and fishing company Sanford down 7c to $5.10.
The rally in the latest session in the United States marked the second bounce in a yo-yo week, with the market showing some signs of regaining its footing.
"It's a bungee cord market. We've fallen off of a small bridge, the bungee cord bounced us up, and oscillations will diminish, but we're still bouncing around," said Fred Dickson, chief market strategist at DA Davidson & Co, in Lake Oswego, Oregon.
Investors used results from Cisco and a slight dip in weekly US jobless claims as the catalyst to snap up beaten-down stocks. Worries about the spread of the European debt crisis were also somewhat alleviated after news of a planned meeting between France's Nicolas Sarkozy and Germany's Angela Merkel.
The Dow Jones industrial average surged 4 per cent to 11,143.31, the Standard & Poor's 500 Index shot up 4.6 per cent to 1172.64, and the Nasdaq Composite Index jumped 4.7 per cent to close at 2492.68.
- NZPA