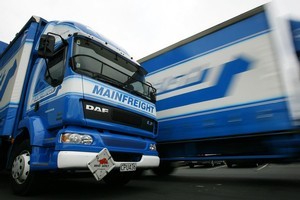 The Mainfreight Group is reporting its first quarter net surplus after abnormals rose 109 per cent to $14.2 million, as results from the newly-acquired Wim Bosman Group were included for the first time.
Total revenue for the three months to June was $449.9m, up 43 per cent from a year earlier, while earnings before interest, tax, depreciation and amortisation (ebitda) rose to a record $32.1m from $15.5m a year earlier, Mainfreight said today.
The "satisfactory" result was in line with expectations, with trends from the quarter continuing into trading for July and August, particularly in domestic operations throughout the world.
"We expect this improved financial performance to continue throughout the financial year," the company said.
Mainfreight, which announced in March it was buying Netherlands-based transport and logistics firm Wim Bosman Group for 110m euros, said that without the Wim Bosman contribution first quarter revenue would have been up 5 per cent to $331m.
Abnormals in the quarter were $430,000 after tax, and related to transaction costs for the Wim Bosman deal.
Mainfreight said business performance in the first quarter improved in this country, Australia, the United States and Europe, with only Asia behind the year earlier result, due to increasing costs as the company developed its network in China.
Domestic freight divisions in New Zealand, Australia and the US had been standout performers for the period.
In New Zealand domestic ebitda rose 28 per cent to $8.9m, with sales up 9 per cent to $73.4m, helped by consistent freight volumes and increases in market share, Mainfreight said.
New Zealand International division revenue rose 9 per cent to $30.7m and ebitda was up 29 per cent to $1.2m, with freight tonnage improved across all sectors except air export. Perishable exports, while improved, had not traded at levels expected.
Those trends continued in July and August, although the export sector was somewhat reduced.
Australian domestic revenue lifted 18 per cent to $59.1m, with ebitda up 80 per cent to $4.3m, as strong sales activities, margin and cost management helped the result, Mainfreight said.
Australian International activities were similar to a year earlier at $56.2m, due to currency and freight rate reductions, while ebitda lifted 15 per cent to $1.4m helped by cost and margin improvement.
Revenue in Asia rose 6 per cent to $9.2m while ebitda fell 33 per cent to $600,000.
US revenue was similar to a year earlier at $102.4m, with ebitda up 20 per cent to $3.8m.
In Europe the Wim Bosman Group had revenue of $118.8m and ebitda of $12m, which was an improvement over a year earlier.
- NZPA