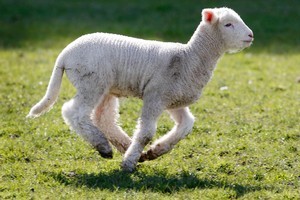 Sheep and beef product exports have jumped 9 per cent to $5.8 billion, despite the smallest lamb crop in half a century, according to Beef and Lamb New Zealand.
Beef export receipts for the year ended June 30 were up 14 per cent to $2.5 billion with volume down 3 per cent, while lamb was up 3.4 per cent to $2.7 billion with a 15 per cent drop in volume.
Beef and Lamb economic service executive director Rob Davison said tight global supplies of lamb and sheep meat saw world market prices lift significantly.
"These high prices allowed a higher-than-usual cull of poorer producing sheep with the objective to improve the flock quality for future breeding seasons and this also contributed to the sheep flock decrease," Davison said.
Sheep numbers for the year ended June were down 2.1 per cent to 31.9 million, while the beef herd fell 0.2 per cent to 3.9 million.
Early expectations for this spring's total lamb crop was for a rise of 1.4 million on last year's poor result to 26.2 million lambs, Davison said. "But even then, this will be the second-smallest lamb crop in 50 years."
Strong prices and favourable conditions, particularly from autumn, had boosted confidence on sheep and beef farms, Davison said.
"Improved prices this year have provided cash to address legacy issues from successive years of droughts and increased debt levels.
"Reducing debt and catching up on deferred maintenance and fertiliser inputs will certainly be ongoing priorities for the coming year," he said.
Prices were expected to generally remain at a good level in the coming year "but the real uncertainty around it then is the exchange rate".