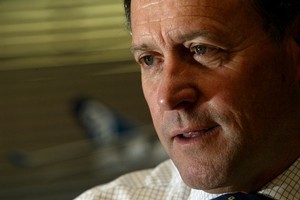 Commonwealth Bank boss Sir Ralph Norris held back from criticising the federal Government in his final major appearance for the bank, but admits he wouldn't want to be in the Prime Minister's shoes.
Norris, who steps down as chief executive in November, delivered his last profit result presentation for CBA yesterday. He said there were obviously issues being caused by the political uncertainty of the federal Parliament.
"It's always difficult for governments when they are in a minority situation, when they have to balance the requirements of their coalition partners and their own policies," he said. "It is never an easy situation, and one that I'm glad I'm not in."
He praised the Reserve Bank for its role in economic management, and said he had every confidence it would make the right calls in the future.
He was also asked for his opinion on ratings agencies, in light of the US downgrade by Standard & Poor's. Moody's also downgraded the long-term debt ratings of Australia's four big banks in May.
He said a downgrade on any of the major banks would be unlikely to change the way they do business or react to global financial markets.
- AAP