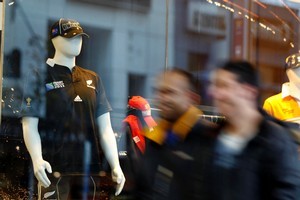 Fair play to Rebel Sport chief, Rod Duke, for transforming a margin dispute between retailer and manufacturer into an issue of national importance.
Traditionally, when retailers wish to offload slow-moving stock they pay for advertisements, often featuring someone yelling at us while the TV pans across the discounted items.
But if you can get the message out there for free...
Even so, watching former All Blacks, current government ministers et al throw their considerable weight behind the Rebel sales pitch, packaged as patriotism, was nauseating.
As some readers have commented, purchase of All Black-branded clothing is not compulsory - yet.
If things are too expensive, then the obvious solution is to not buy them rather than bleating about it on national television.
Is the German firm Adidas evil for trying it on? No more than any other commercial entity designed to squeeze the maximum price out of consumers.
However, there were hints of higher-level evil in the more interesting Adidas-related story that made headlines this week.
The new head of the International Monetary Fund (IMF), former French finance minister Christine Lagarde, has been embroiled in a scandal relating to the sale of Adidas in the 1990s.
Allegedly, Lagarde unduly influenced compensation claims in favour of a former owner, Bernard Tapie, who picked up US$400 million in a 2008 settlement with the bungling bank that handled the Adidas sale.
The French do intrigue so well, they do the illingest things.
They play rugby ok sometimes too. French 2011 world cup rugby jerseys are available online for about £55 (or NZ$107 not including postage). This is the ultimate anti-Adidas statement, as Les Bleus strip is sponsored by Nike.
Just do it.