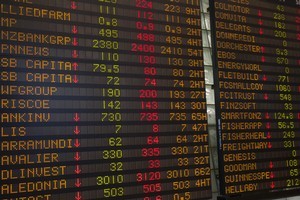 New Zealand stocks are tipped to fall again today as the financial world reels from the United States' credit downgrade.
More than a billion dollars was wiped off the value of NZX-listed firms yesterday, following a similar loss during Friday trading. The NZX-50 index closed down 91.06 points, or 2.78 per cent, at 3185.45 last night after Standard & Poor's reduced the US Government's credit rating from AAA to AA+ over the weekend because of concerns about Washington's ability to reduce its sovereign debt.
Hamilton Hindin Greene adviser James Smalley said the reaction from the market yesterday indicated it had not finished falling.
"We're in new territory at the moment," he said. "Since 1941 we've never had the US below AAA and so the concern is that it's almost a new paradigm and one thing markets hate is uncertainty ... the market is going to find a bottom and bounce along that while the powers that be try to stabilise things."
Mint Asset Management's Shane Solly said the US Federal Reserve needed to indicate that it would intervene if necessary.
"The European Central Bank responded overnight ... faster than a lot of people would have thought. This is the time where these guys need to really step up and show their willingness to support economies."
The European Central Bank said it would "actively implement" a bond-purchase programme that could boost Spanish and Italian bonds and drive down interest yields that threaten those countries with financial disaster.
Stocks across the Asia-Pacific region extended declines that have wiped US$5.4 trillion off global equity markets since July 26. The Australian stock exchange closed down 2.91 per cent at 3986.1. CommSec market analyst Juliette Saly said the ASX reacted with shock to the S&P downgrade. But investors' nerves seemed to calm after an initial sell-out.
Hong Kong's Hang Seng tumbled 1.95 per cent and the Straits Times index slid 3.08 per cent during trading yesterday. Japan's Nikkei 225 stock average fell 2.18 per cent.
Seeking to calm the panic, finance officials from the Group of Seven industrial nations issued a joint statement yesterday saying they were committed to taking all necessary measures to support financial stability and growth.